Marketers tend to cringe when they hear the words link building. Most know they need to include it in their content-SEO strategy but have also heard about how difficult and/or expensive it can be.

The words may also conjure up images of the spammy, irrelevant link-building pitches that land in your inbox daily. Given that, any self-respecting marketer should want to stay as far away from link building as possible, right?
Not necessarily. There is a way to drive quality links, at scale, without spending hours and hours on outreach or spamming people's inboxes. After creating tons of content designed to attract links, I've learned how.
✨ A way that is future-proof, Google-update proof, and the opposite of spammy. A way to build links naturally that sees compounding returns over time. ✨
That's what I'm going to share with you here. But first, a little background.
When I started my career in content-led SEO around six years ago, I didn't know much about link building. I was thrust into this world head-first when I got hired at Siege Media— I spent countless hours ideating, creating, and promoting content with link count as a main KPI.
Since we were trained to create really outstanding content and pitch it to people who we hoped would *actually* be interested in said content, I never realized that there was this whole world of low-quality link acquisition running alongside us.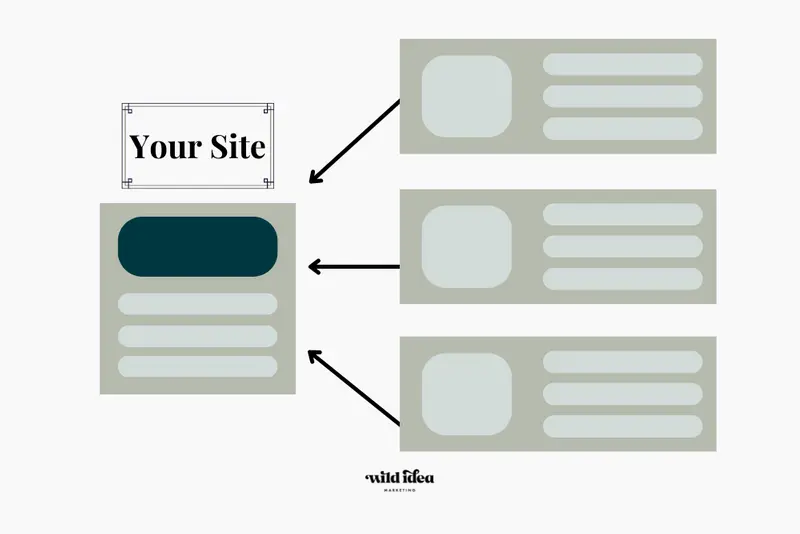 Link Building Doesn't Have to Be a Dirty Phrase
When I started Wild Idea, I started exploring different ways of doing things, including lower-cost/lower-friction ways of acquiring links for our clients.
That's when I realized just how badly outdated most other people's content marketing and link acquisition methods are. You may recognize some of these methods from your inbox.
The Spammy Skyscraper
You are probably familiar with the skyscraper technique. This is a method where you find link-worthy content, create something even better, and promote it to the right people.

It's an excellent approach in some ways, but there are a few places where most people get lazy. When people get lazy, this method transforms into The Spammy Skyscraper.
1. They don't create objectively better content. In the words of Brian Dean, this technique requires content "so awesome, so incredible, and so useful that people can't help but login to their WordPress dashboard and add a link to your site."
This can be done by making an article that's more thorough, with updated information, a better design, better imagery, etc. However, most people don't bother. They'll create a piece of content that is maybe two paragraphs longer than the original article and ask websites to link to it.
Do these pieces deserve a link?

2. They don't reach out to the right people. Manual outreach is hard. It's soul-crushing. But it's ABSOLUTELY necessary if you're going to use the Skyscraper Technique. Here, you are supposed to find people who have shared similar content, manually check that they are still sharing such content, and create a personalized outreach email, asking for a link.
Unfortunately, most outreach specialists these days will mass-email anyone who has EVER touched on the chosen topic in ANY article, EVER. They send out 100s of emails that auto-populate names, URLs, site names, etc., and there is no manual checking to see if the recipients might *actually* be interested in what they're promoting.

This results in the type of spam emails we all hate. Example below.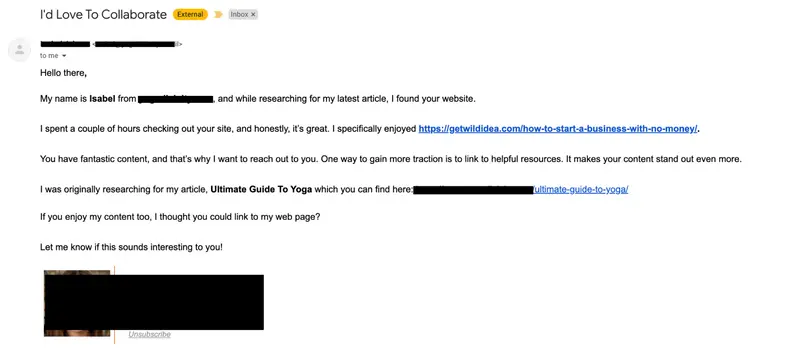 Broken Link Begging
Some of you may be familiar with broken link building, a tactic in which people use SEO tools to find pages with broken links on a certain topic. They will reach out to the site's webmaster, inform them of the broken link, and suggest a new resource to replace the dead one.
The problem is that whatever tool these people are using appears to provide a huge list of sites with broken links, and then these people send a mass, generic email to these thousands of sites. The broken link replacement resource often has nothing to do with the article the emailer is referencing.
I'm just going to go ahead and call this what it is— Broken Link Begging. Yes, they're providing the webmaster with helpful information; broken links are not great for UX. However, the "spray and pray" way that most people are executing this strategy just creates a lot of spam. On top of that, the replacement resources these people suggest are typically crap.
Most credible websites know exactly what Broken Link Beggars are doing, which means it isn't a reliable way to get high-quality links anymore.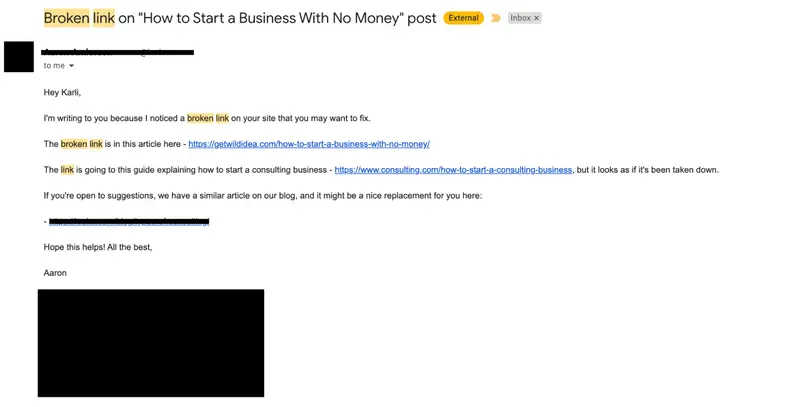 Paying for Guest Posts and Placements
Ahhh, guest posting. While Google has stated they devalue unnatural-looking guest posts, this is still a very popular and effective method for building site authority and developing thought leadership. That is, if it's done correctly.
Proper guest posting involves a manual search for high-quality websites in a client's given niche that are accepting outside contributors. Then, you develop a relationship with this person by offering something in return and/or sending a customized pitch, create a quality article for prospects that accept, and form a mutually beneficial relationship between the prospect site and the site reaching out.
Somewhere along the line, though, people realized they could charge for these guest posts. It became big business and resulted in hundreds of spam sites being created almost exclusively for the purpose of guest posting.
It's against Google's guidelines to pay for any link, but it's made worse when people pay to post completely irrelevant content on the sites just for the link back.
You've probably gotten an email like the one below. People trying to offer paid posting to their list of "hundreds of sites." All guaranteed. All paid. All low-quality spam sites.
These people send thousands of these emails with zero personalization, and they *must* be getting bites. However, participating in something like this is not good for any website.
Also Read: Link-Building Strategies: 24 Sure-Shot Tactics to Snag High-Quality Links
Linkable Asset Creation and Manual Promotion
This method is by far the least spammy of the ones I listed above. In fact, I hesitated to mention it alongside the above methods at all.
I learned this method when I started my career in content marketing, and it's one we've actually been offering at Wild Idea for the past two years. In fact, this service can be used alongside our current methodology when needed.
However, it's worth mentioning because, on its own, this method is not optimal. It involves creating a really beautiful, highly useful, or otherwise valuable asset like an infographic, a chart or graph, or an interactive and pitching it to *relevant* prospects who have shared similar pieces in the past.
The issue? First, it relies solely on manual outreach. Which, again, is soul-crushing and expensive. Annnnd, If we're being honest, it can end up feeling like the spammy methods we mentioned above if the outreach gets lazy.
Yes, you're asking people who should be interested in sharing the piece, but when you're sending 100s of emails, there are bound to be ill-fitting prospects in the mix.
Secondly, and more importantly, these pieces are expensive to make and capped when it comes to ROI. When you stop promoting these pieces manually, they stop acquiring links. This means that the content value stagnates or drops over time rather than increasing.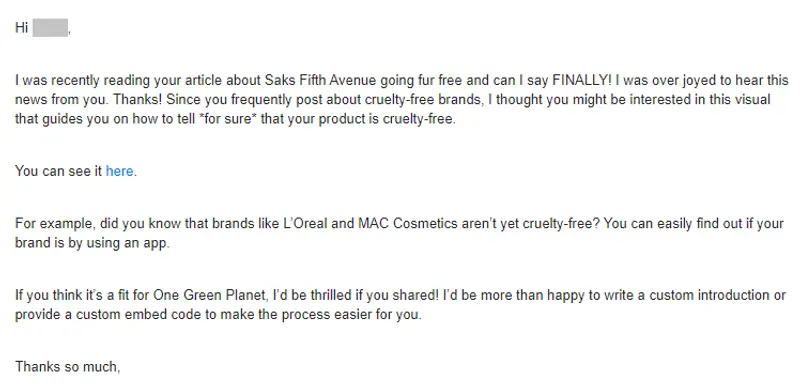 That being said, links are still a huge factor when it comes to ranking your SEO content. So, what's the solution?
Create Content That People Will Naturally Link To
Over the last several years, content marketers who are committed to quality have noticed that there is a better way.
A method that creates significant distance between the spammers and us because it requires little to no manual outreach: passive link earning content.
What Is Passive Link Earning Content?
Passive link-driven content (or organic link-driven content) is content built to attract links over time naturally. Content that's built to rank for queries that other content creators are likely to reference.
The result? A steady stream of naturally-acquired inbound links over time. Major publications can cite your content as a resource *without* you having to ask them. These are pieces of content that multiply in value over time— set it and forget it (almost).
The gift that keeps on giving! Here's how it works.

How to Incorporate Passive Link Building Into Your Content Marketing Plan
So, for this article, let's assume that you have a larger content-SEO plan in place, and that you'd like to add passive link bait into your content schedule. At Wild Idea, we typically try to add one such piece out of every two to four articles, depending on the client's goals.

We pepper these in with the content that we're already creating so that our clients are building links at the same time they're bringing in leads, signups, or purchases.
Keyword Research
You can learn more about our typical process for keyword research here (article coming soon), but it involves drilling down topics that are most important to the client's customers so that we can create content that solves their pain points.
While doing this, we may find topics that have passive link intent, and we prioritize those first. However, a lot of the time, we'll need to create a separate strategy that integrates with and lives alongside the main content strategy.
To do this, we can just create a separate tab in our keyword research spreadsheet and label it "Passive Link Keywords." From there, we'll start brainstorming keywords with passive link opportunity.
There are a few ways to do this, which I'll cover here.

Brainstorm Using Common Passive Link Topics
This is more of a manual process but can be fruitful if done correctly. Some topics attract links more easily because they are usually centered around information that people are trying to reference.

Now, please note that these phrases do not always equate to passive linkability; you'll still need to qualify the topics below. It's an excellent place to start, though!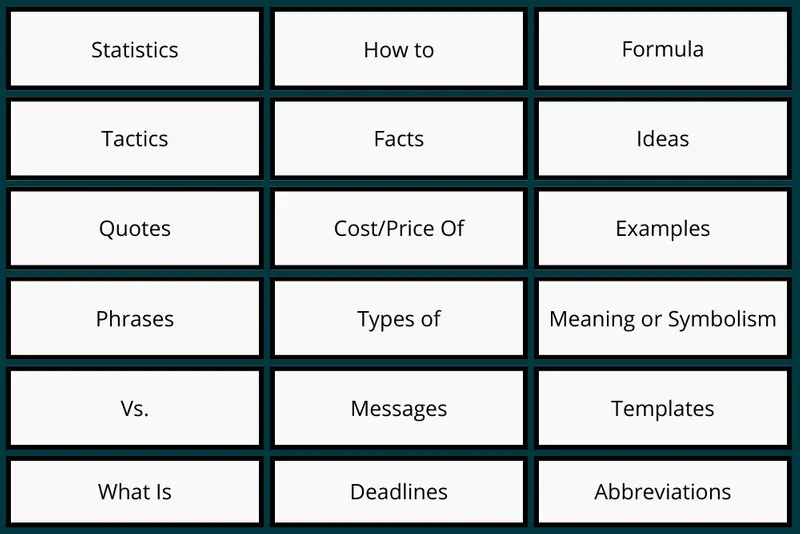 Think about these topics in relation to the industry you're in. Are there any common data points that are often referenced? Definitional queries for less common words or abbreviations? Collections of stats, facts, habits, quotes, or tactics that you could collect?
You'll want to write these down.
Use Competitor Data
If you're drawing a blank, unfamiliar with the industry you're brainstorming for, or just in need of some inspiration, you can use AHREFs to quickly find passive link opportunities.

To do this, find brands that cater to a similar audience (your SERP competitors) by identifying the informational keywords that are driving the most traffic for you, and Googling them.

In the SERP, try to pick 1-3 sites that are a similar domain authority as you, and grab their URL.

Now plug their homepage URL into AHREFs Site Explorer and navigate to the "top pages" tool (the legacy one). You'll notice that it documents the number of root domains per page, but you can't sort by this data point in AHREFs.

So, just export the data into a spreadsheet where you can sort the list for pages with the most linking root domains to the least. This should give you some keywords that are driving traffic and links to the competitor site.

Look for passive link topics in this list, but be open-minded to terms we didn't mention above as well!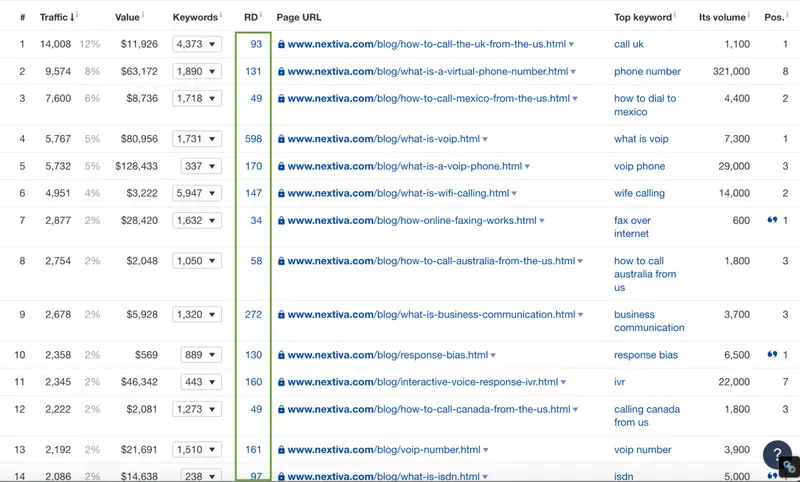 Note: Low search volume doesn't necessarily mean that a keyword doesn't have link potential. So don't automatically disqualify a keyword because it doesn't have a ton of monthly searches.
Qualify Passive Link-Worthy Content
Now, you should have a nice long list of potential keywords. It's time to qualify them to select keywords with organic link potential. Not every keyword in your batch will have passive linkability.
We typically qualify these keywords each quarter when we're building out our content schedule, but you can do it monthly, bi-annually, or whenever you're building out your content schedule.
Following are a few ways to qualify your keywords.
Check The SERP
First, you'll want to plug each keyword into AHREFs or directly into Google, and then use the AHREFs toolbar) to see if the top three results have a significant amount of links. Usually, 100+ LRDs are a strong indicator that people are consistently linking to these pieces.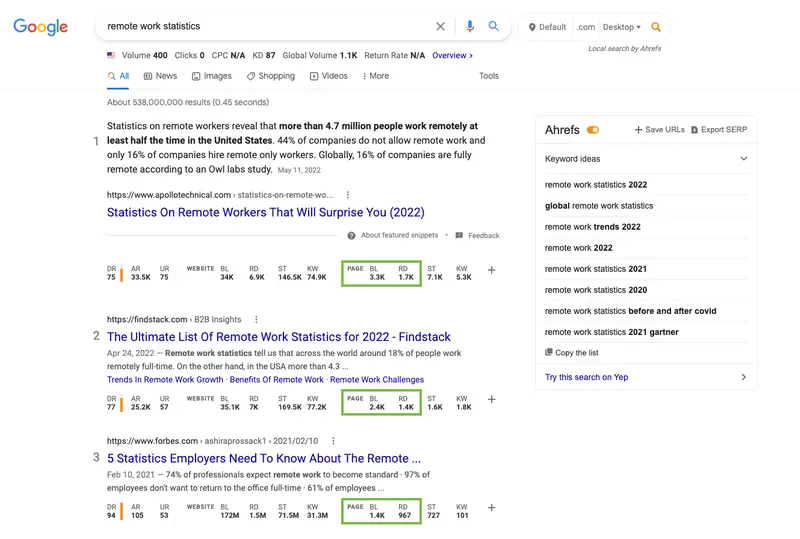 Then, look at the SERP results themselves and ask yourself…
Are the top 1-2 results absolute authorities on the subject? Is your site more or equally authoritative? If not, you will likely never beat these results, and your site is unlikely to be the one chosen as a reference. A good way to tell is if the top result has a ton of links, far more than the next four results.

Can you create something better than what's ranking at #1 and #2? If you have the resources and topical authority, great! If not, it's best to try for a less competitive keyword.
Look for Steady Upward Growth in AHREFs
Next, pop the URL for the top result into AHREFs and look at the Referring Domains window in the Site Explorer. Look for steady link growth over time vs. a ton of links earned at once or super volatile link growth.
This indicates that the links were earned naturally over time vs. built manually. You'll also want to skip the keyword if links are dropping off, which could indicate that the topic is trending downward.

Study the Backlink Profile
For that same top result (or the top two, if you want to be safe), take a look at the types of links it's earning. In AHREFs, go to the Backlinks tool and just assess the types of links this piece is earning.
Is it a bunch of spam? Are the links poor quality? A good way to tell is to look at the Anchor and Backlink column to see if the title tag of the referring article is gibberish or if it's just a link placed without anchor text. You should be able to tell at a glance if the link profile is full of spam or if it's made up of quality links.

If the backlink profile is full of spam on the first two SERP winners, you may want to move on to another keyword.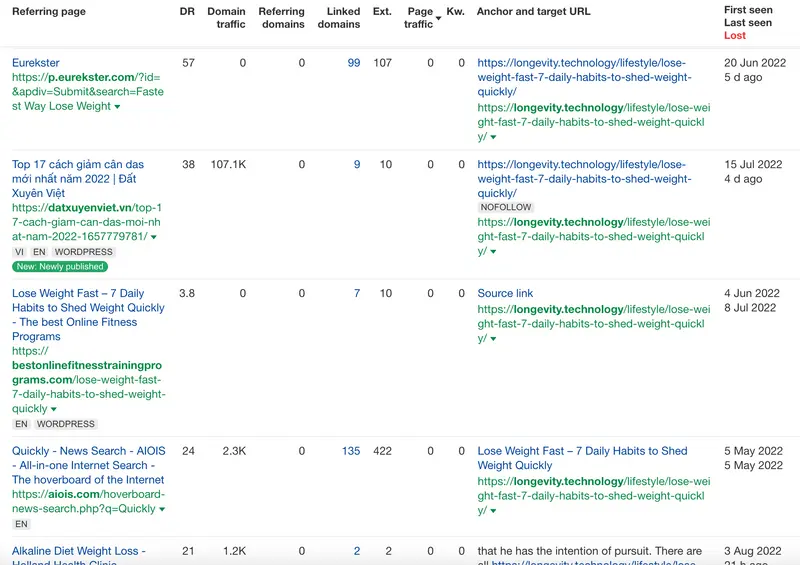 Make Sure You Can Rank for the Keyword
The passive link strategy hinges on the assumption that you can, in fact, rank for the keyword you're targeting. After all, people tend to reference resources that are ranking in positions 1-3, and ignore the results ranking lower.

You should have a general idea of whether or not you can rank from when you checked the SERP earlier, but just to be sure, type the keyword into AHREFs and look at the SERP analysis.
Does your site have a similar DR (domain rating) to the SERP winners? It may be difficult to rank if your site is much less authoritative. Take a look at the results ranking in the lower results, it's helpful if some of them are lower DR!

Also, ensure that you have a similar level of topical authority as the ones ranking in your target SERP. If you don't, you may struggle to rank, especially if the SERP is more competitive.

Finally, look at the number of backlinks and referring domains the SERP winners have. Yes, the top three should have a good number of links (acquired organically), but it's a great sign if results 4-10 have fewer links.

This shows that you won't need an excessive number of links to rank for that particular keyword, and reinforces your hunch that people are referencing the top three results organically.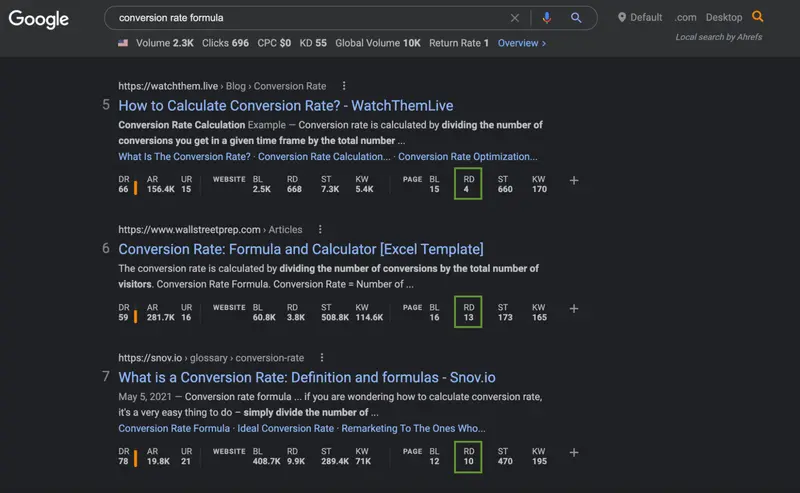 Brainstorm Your Differentiators and Angles
Now that you're confident that the keyword you've chosen has passive link intent, and that you can rank for the target keyword, you'll want to brainstorm ways to create something better than what's ranking now.
You can distance yourself from the top results by creating 10X content (a piece of content that is longer, more in-depth, more visually appealing, etc), but you can also attempt to cover the topic from a different angle or add something special to the mix.
One way to do this is to come up with your own data to include in addition to curated data (for instance, a survey or internal data you collected yourself). Depending on the topic, you could interview an expert or add expert commentary from an internal source.

You can also try including a contrarian angle or including a fresh take on the subject in addition to the information that's already out there.
This step will vary greatly depending on the topic, but the idea here is to avoid regurgitating what's already in the SERP and to create something objectively better. Of course, you'll still want to include the information people are looking to cite, but get creative when it comes to ways to level up your content!
Read more: What Are The 3 Types Of Content That Always Get Results
Create Stellar Content
Now, it's time to actually create the content. I won't go into too much detail here, but you'll want to ensure that the content you create is well-written, error-free, extremely user-friendly, and visually appealing.
Remember, even if you win top placement in the SERPs, it's unlikely that you will be used as a reference if your resource isn't authoritative. You want people to be impressed when they come across your content and *want* to share it!
Note: You will want to update this type of content pretty frequently to ensure it always includes the freshest information and data. I'd say once a year at least!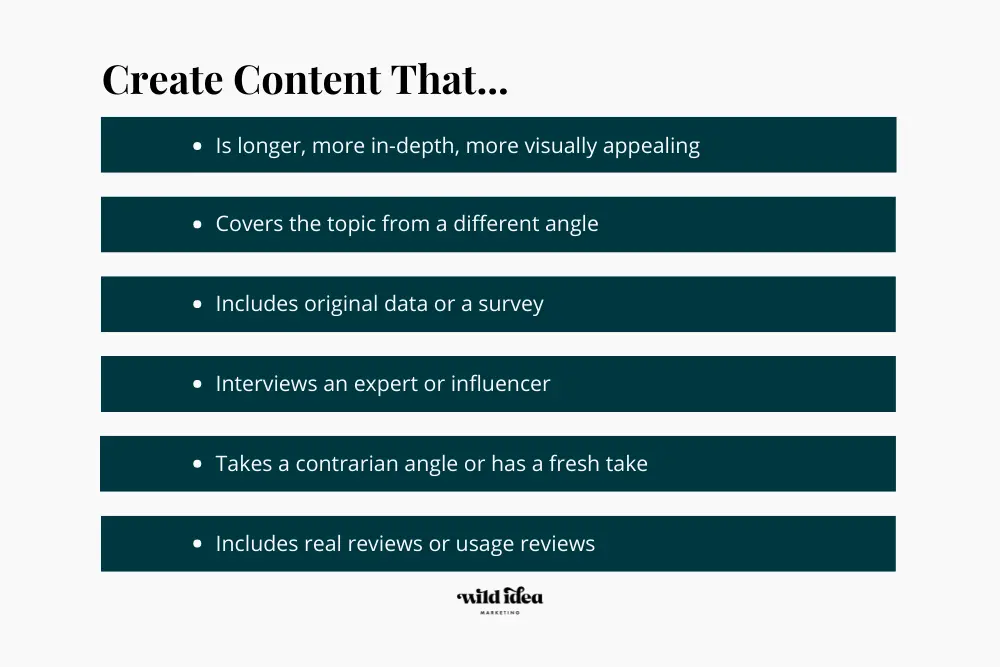 Build Preliminary Links to Content
Sometimes, even the best content will need a boost, especially when you're targeting a more competitive keyword or if you happen to be in a more crowded industry.
When this happens, you may need to build some initial links to a piece of content to help boost its ranking. You can do this via manual outreach by sharing the piece with people who are likely to share it with their audience.
Now, that's the kicker, you have to share it with people who will *actually* find your content valuable. If your content isn't highly shareable on its own, you may need to incorporate a shareable element like an infographic, unique data, charts, other data visualizations, etc.

Then, reach out to people who have shared similar content in the past and ask if they wouldn't mind sharing it with their readers.

I know, I know, the most attractive aspect of passive link building is to forgo manual outreach. However, that's just not always realistic.
Remember, passive link-driven content will continue to generate links over time, amplifying the ROI for each piece far beyond what a typical manual outreach piece would provide.
Want us to build your passive link-building strategy?
Content In Action
Curious to see these strategies in action? Here are a few examples.
This piece takes a two-pronged approach. It was initially designed as a study aimed at journalists in the Texas area. It earned some great mentions in the Dallas Morning News and Candy's Dirt.
Passive link intent was built into the project from the beginning, with the hope that once the piece was ranking for the target keyword 'best places to live in Texas,' it would start attracting natural links over time. And it has! It's also a huge traffic driver for the site.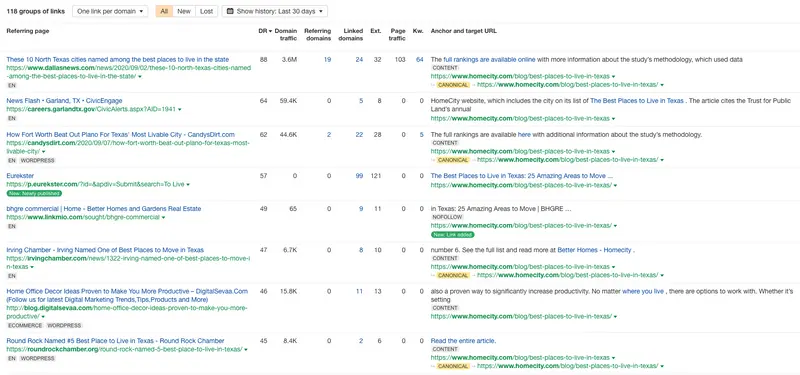 A similar piece from the same company has created a similar effect with absolutely no outreach. It answers a question that a lot of people are asking, and presents data-backed answers that people can reference.
As such, it's enjoyed over 82 LRDs alongside 8K in monthly traffic.

Another example is this piece that is ranking for a "What Is" term after some initial outreach was performed. It's gotten links from MSN and other high DA websites, many of which were acquired organically.

One More Thing
One last thing I'd like to mention is how this strategy fits into the bigger picture. Given the way Google updates are trending, it's reasonable to believe that any kind of manipulated link building may be devalued in future updates (they are already devaluing guest posting and other "links schemes").
Creating content that is built to last, that is likely to get *rewarded* by Google in the future rather than punished, is definitely worth investing in.
As the algorithm gets more and more complex, genuinely helpful, engaging, and valuable content will be what wins in the SERP. And after all, don't we want to make the internet a better place?
If this strategy sounds like something you'd like us to help you implement, reach out to us, or you can always shoot me a message on LinkedIn if you have any questions!
Author
Karli is content marketing consultant behind Wild Idea, a content marketing and SEO collective focused on driving big results. With over 12 years in the marketing industry, she's worked with brands large and small across many industries to grow organic traffic and reach new audiences. She writes on everything from marketing, social, and SEO to travel and real estate. On the weekends, she loves to explore new places, enjoy the outdoors and have a glass or two of vino!
How to Earn Passive Links Through Content Marketing