There are 3.5 billion active social media users, out of which 54% use social channels to research products. No wonder social media marketing sells like hotcakes. Creating content, publishing it to different networks, and staying on top of analytics and reporting is a massive task for social media marketers to do every single day. That's why many small businesses depend on free social media management (SMM) tools to ease their load.
In 2020, you have many social media management tools that simplify and automate your social media marketing efforts. These tools can help you schedule your posts in advance on all platforms using a single interface. They can also keep track of each post's daily performance so you can build better campaign strategies.
SMM tools can help streamline the workflow for small, medium, and larger enterprises equally well.
But, with so many brilliant tools in the market, you have to make a choice. You need the tools with features that best align with your business and marketing goals. Most social media management tools are free for startups and small businesses.
You can check out their features, use them for a while, and upgrade them as your business grows.
Here are the top 30 free social media management tools on the market. Let's take a dive and analyze their amazing features and benefits in detail.
1. Buffer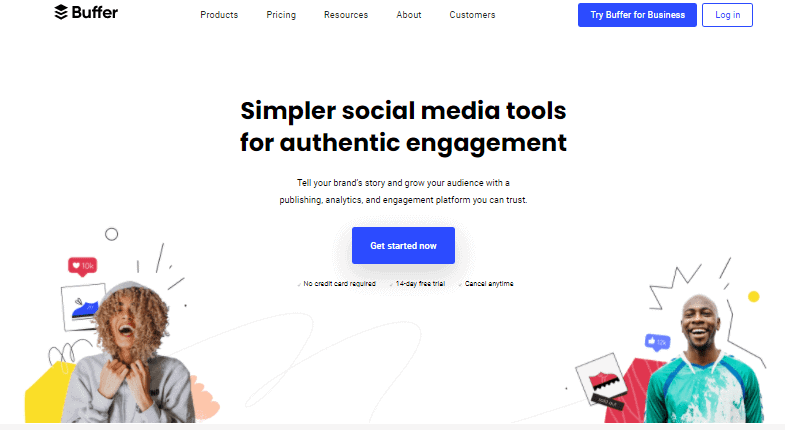 Buffer is a wonderful tool with a clean, user-friendly interface, which delivers an amazing customer experience. It has built trust with almost 75000+ companies with its social media marketing services.
You can schedule and strategize posts to drive meaningful traffic and maximum engagement from your social media profiles. It is power-packed with products for multiple purposes like publishing, engaging, analytics, and team collaboration.
With Buffer chrome extension, you can schedule posts and monitor user activity on the go.
Price:
Basic: Free
Pro: $15/Month
Premium: $65/Month
Business: $99/Month
Best For: Buffer not only monitors your posts' performance but also recommends the best times to publish them according to user activity. The friendly customer support and stellar blog content make it an even more helpful tool.
2. Hootsuite: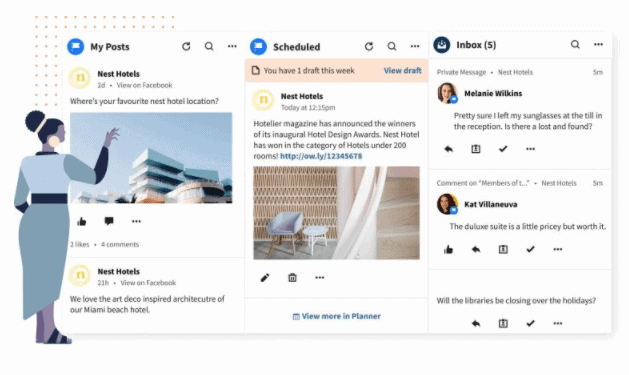 Hootsuite is one of the most widely used social media management tools, with over 15 million users. It is an all-in-one platform that helps to create, schedule, and publish social media content. You can manage three social media profiles through a single interface and schedule up to 30 posts at once. The tool allows easy apps integration, and you can also run your lead generation campaigns through Hootsuite.
You can track followers, measure growth, and keep an eye on statistics. Two RSS feed integrations and a visual calendar dashboard make it quite a useful tool for content organization.
Price:
Basic: Free
Professional: $19/Month
Team: $99/Month
Business: $599/Month
Enterprise: Custom
Best for: Hootsuite shines in its ability to schedule bulk posts, monitor multiple accounts, and connect with 35 different social networks. The visual calendar shows you all the posts with their scheduling details in a single glance.
3. Later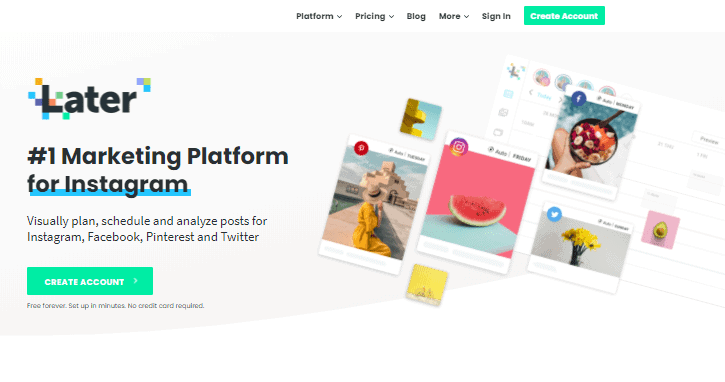 Later is the best tool for Instagram users, but you can schedule and post content across multiple social media platforms like Facebook, Pinterest, or Twitter. It is perfect for businesses that focus their marketing efforts on Instagram and Pinterest.
Its visual planner offers an easy drag-and-drop option with the option to add captions. Preview how posts will look in your feed right there in the tool, drag them to change their sequence to make sure it looks exactly the way you want. That's why it is considered the #1 marketing platform for Instagram.
Being an Instagram partner, it offers high-level security for your social content and uses Instagram Graph API for publishing content.
Price:
Basic: Free
Starter: $7.5/month
Growth: $12.5/month
Advanced: $25/month
Business: $7.5/month
Best for: Besides the visual calendar, which is a big hit among Gram users, Later's Linkin.bio integration allows you to generate sales through your Instagram shoppable account. Add a link to your Instagram account and lead your viewers right to your product. You can even add multiple links to a single post and increase your product reach and, ultimately, your sales.
4. Planable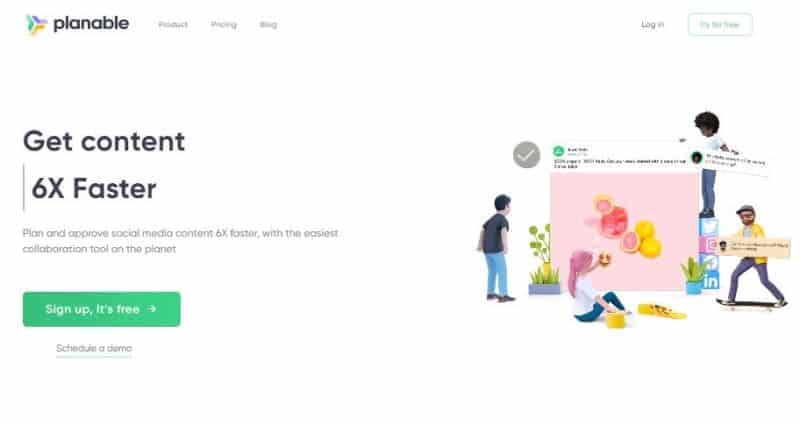 With Planable, you'll put together kickin' posts that look exactly like the live versions. So what you see is what you get.
You'll literally keep everyone on the same page. With one shared space for your team and clients to collaborate, everybody is in the loop at all times. Gather feedback where it makes sense, right next to every social media post. Add comments, tag your team members, and send notifications to the right people. Miscommunications will be the horror stories told by the water cooler. Or virtual water cooler.
Every team works differently. That's why you can set up Planable to work in the way you already do, no matter how many levels of approval you need.
Price:
Basic: Free
Starter: $33
Premium: $83
Enterprise: Custom
Best for: Their latest big feature is direct Instagram publishing via Buffer. With this addition, coordinating large-scale social media campaigns with our app even easier.
5. Friends+Me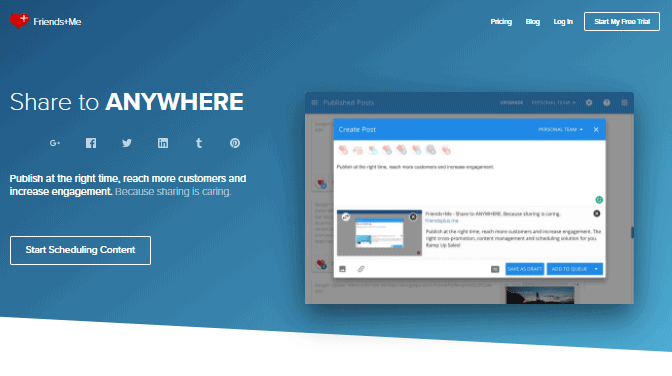 Friends+Me was designed explicitly for Google+, but that doesn't mean that it has lost its value after Google+. This tool offers unique SEO benefits and allows cross-promotion to other social platforms like Linkedin, Facebook, Twitter, and Tumblr.
You can use its Chrome extension to create and save content for sharing during normal browsing. Save the content as a draft and polish it for publishing once you're ready. You can also take your social media management mobile with its iOS and Android apps.
With the free package, you can schedule 5 posts a day. But, if you want to integrate it with Instagram or Pinterest, you need to upgrade.
Price:
Basic: Free
Individual: $7/month
Small: $24/month
Medium: $49/month
Large: $215/month
Best for: Cross-promotion is a powerful feature for Friends+Me, especially the ability to automate reposting on different social media platforms with its cross-promotion workflow.
H2: 6. ContentCal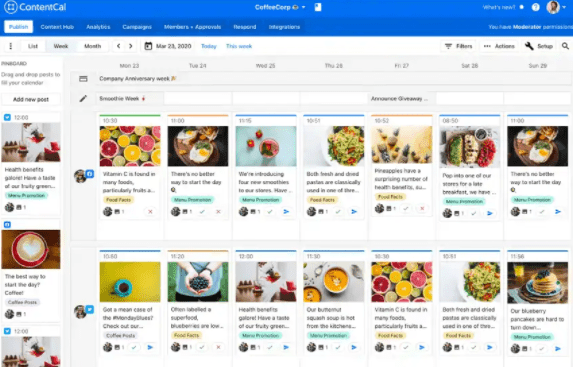 ContentCal is the best tool to bring the entire social media marketing team together and streamline the workflow from content creation to responding to conversions.
The content hub is where your team can collaborate and work together to create social media content. You can integrate your favorite tools like Trello and Slack for better communication across all channels.
The pinboard feature provides an easy drag and drop option to fill your calendar. ContentCal also gives you all the necessary analytics to create a high-performing SMM strategy or run an organic campaign to spread awareness about your brand.
Price:
Hobbyist: Free
Pro: $17/month
Company: $47/month
Premium: Custom
Enterprise: Custom
Best For: ContentCal's strength is its shared team inbox, where you can manage all the conversations and tasks together. The tool also offers a colorful display of charts and graphs to measure and display growth, analytics, and content performance.
7. Zoho Social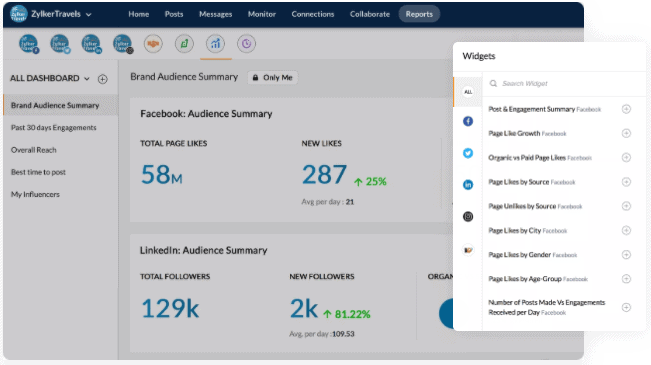 Zoho Social's scheduling calendar resembles Hootsuite and allows you to organize your posts with a bigger picture in view. The detailed analytics record users' behavior and schedule posts when they are more active to get the most engagement.
Zshare browser extension by Zoho helps you discover new topics and curate fantastic content. You can create different copies for different social channels and share them directly through your browser.
Price:
Get started for FREE
Standard: $15/month
Professional: $35/ month
Agency: $275/month
Agency Plus: $400/month
Best for: Real-time integrations with Facebook Lead Ads, CRM, and various other tools allow you to monitor your team and leads and respond quickly. It can improve your user experience immensely.
8. Visme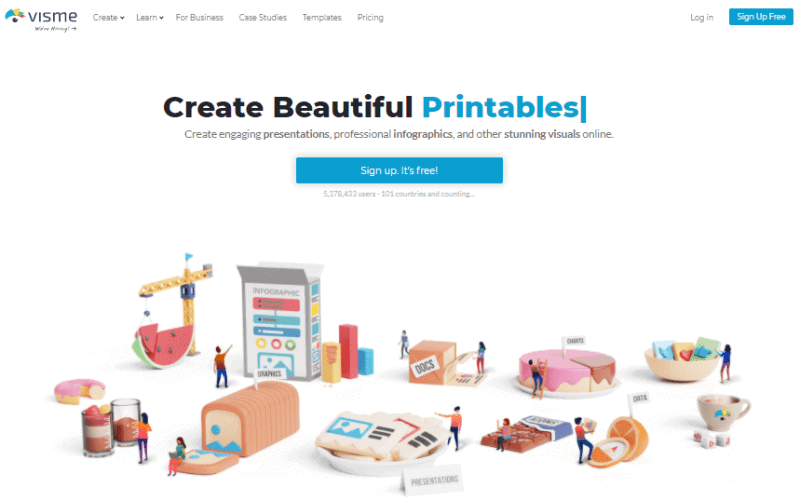 Visme makes content creation a breeze. You can create awesome visuals such as graphics, presentations, charts, and graphs using its templates and user-friendly tools. You can also customize the templates to match your brand.
Once you're happy with your content, you can share it directly from Visme. You can also add your team members for better workflow and to facilitate coordination and growth.
Price:
Basic: Free
Standard: $25/month
Complete: $39/month
Best For: You can create audio content and animations as well and present them offline too. You can also use a range of collaboration tools to optimize lead and performance management.
9. Crowdfire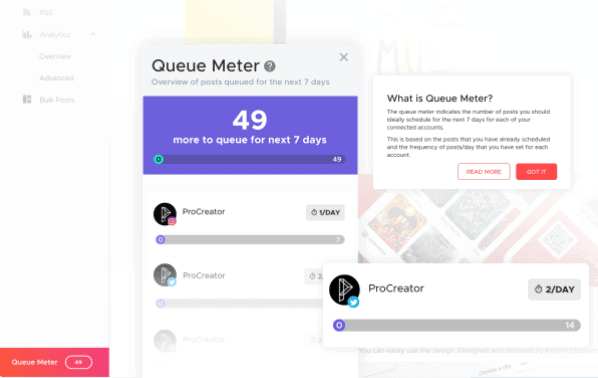 Crowdfire is a simple but powerful social media management tool, particularly for Twitter users. Besides the typical features of an SMM tool, it suggests relevant content based on your most used hashtags.
It can also customize your posts automatically to suit different social media platforms. Twitter users can follow and unfollow accounts from within this tool and find new topics to share without leaving Crowdfire.
Price:
Basic: Free
Plus: $10/month
Premium: $50/month
VIP: $100/month
Best for: You can connect your blogs, online shops, and your Youtube channel to Crowdfire. Whenever you update any of these online assets, Crowdfire will automatically create beautiful posts for your social media channels.
10. Hubspot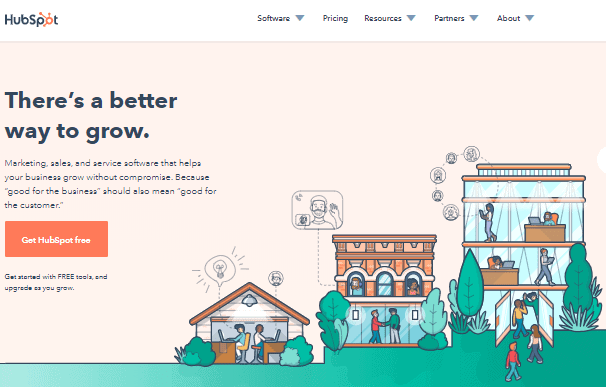 Hubspot is an all-in-one inbound marketing tool with powerful social media marketing tools. It combines social media efforts, emails, and CRM to give you a complete picture of your marketing efforts' effectiveness. You can get the marketing hub alone or choose to get the whole package to scale your business growth.
Price:
Basic: Free
Starter: $40/month
Professional: $800/month
Enterprise: $3200/month
Best For: Hubspot ties together all your marketing efforts, whether you publish directly or through Hubspot. The analytics also include your YouTube stats that allow you to measure how your audience is responding to your video.
11. IFTTT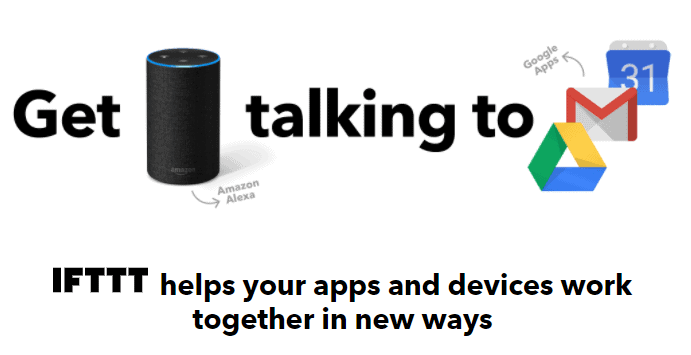 IFTTT helps you automate tasks between different apps, devices, and services you use, including IoT and audio devices, without knowing any coding. There's no end to the list of social media management tasks you can automate with IFTTT.
You can use your blog's RSS feed to tweet or post on your social media as soon as your blog post goes live. Automatically save posts from Feedly into Buffer, connect Google Sheets to Instagram or keep a record of all the photos you posted. Whatever you can think of, you can achieve with IFTTT applets from its library.
Price:
Best for: IFTTT can engage your customers in the apps and services where your audience already is. It can also learn your usage behavior and suggest integrations best profitable for you.
12. Plann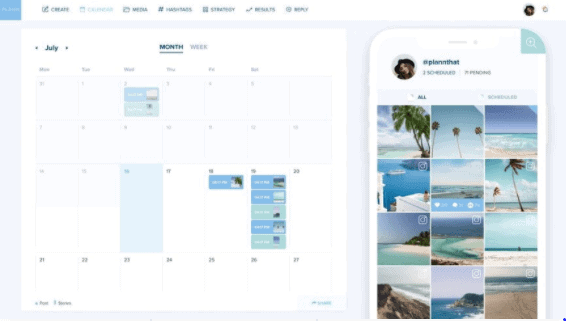 Plann is another visual SMM tool with many desirable features like image editing, scheduling, team collaboration, analytics, and performance-guided strategy building. It also has the much-wanted drag-and-drop calendar where you can see all your scheduled posts and stories with gaps that you can fill with your evergreen or top-performing content.
Price:
Basic: Free
Power User: $9/month
Build: $19/month
Grow: $59/month
Play Big: $129/month
Best For: Plann has a high cost-based value as it's an affordable tool with everything you need for social media management. Moreover, with one click, you can begin creating images in Canva and add your branding material to Plann for consistency.
13. SocialOomph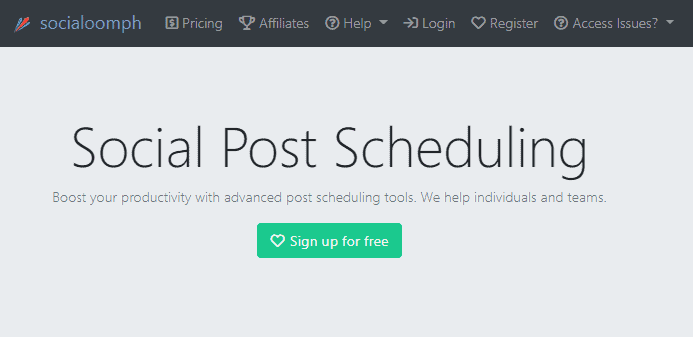 Whether you're a single user or a big team, SocialOomph will woo you with its high-level scheduling, self-destructing posts, seasonal post loops, and post-flood control. You can automatically create posts from RSS feeds from your blogs and use IFTTT to create your custom app associations.
Price:
Personal Suite: Free
Advanced Suite: $15/month
Professional Suite: $25/month
Business Suite: $55/month
Best For: Versatile and easy to use, SocialOomph provides high value compared to its price. Users praise the quick customer care and transparent communication with regular updates.
14. FreeTweetDeck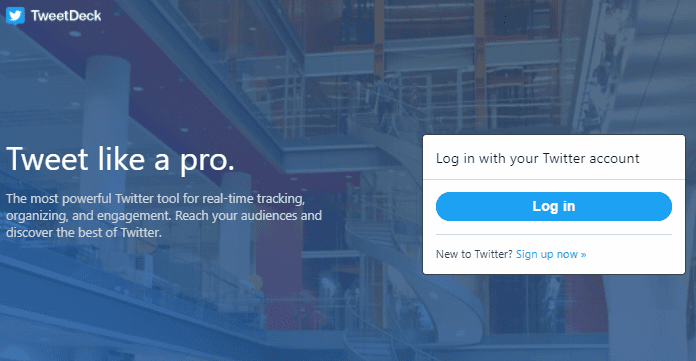 There are 1.3 billion Twitter users, and many businesses use it as their primary marketing channel. Traversing the Twitter world is not a walk in the park, but you can tweet like a pro with TweetDeck. You can customize the dashboard to monitor the hashtags, mention, tweets, and profiles you want. You can link multiple accounts to manage different clients from one dashboard.
Price:
Best For: It's a specialized social media management tool for Twitter users. You can give team members access to TweetDeck for delegating tasks and scheduling tweets in advance.
15. Social Mention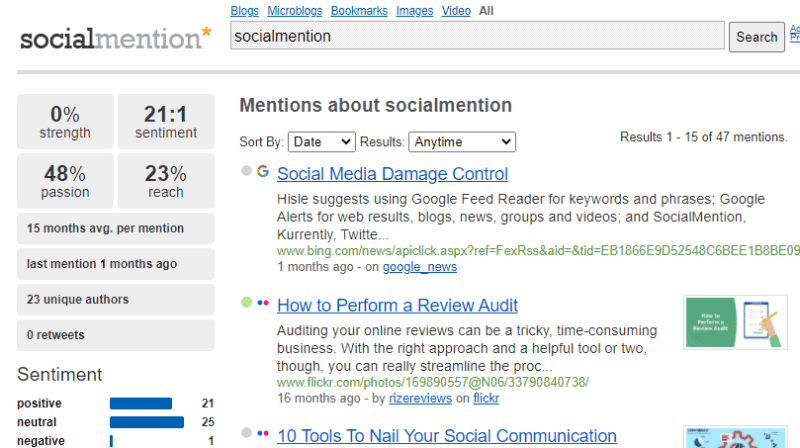 Social mention parses the internet to find mentions of your brand across 80+ social media platforms. It collects user-generated content from all over the internet to evaluate your social media presence. This tool keeps track of everything people are searching about your company or brand.
Social Mention categorizes all the collected data based on strength, sentiment, passion, and reach.
Price:
Best For: It separates positive from negative posts and predicts future responses from current numbers. This way, you can also judge the type of campaigns you should run to improve your brand reputation.
16. Followerwonk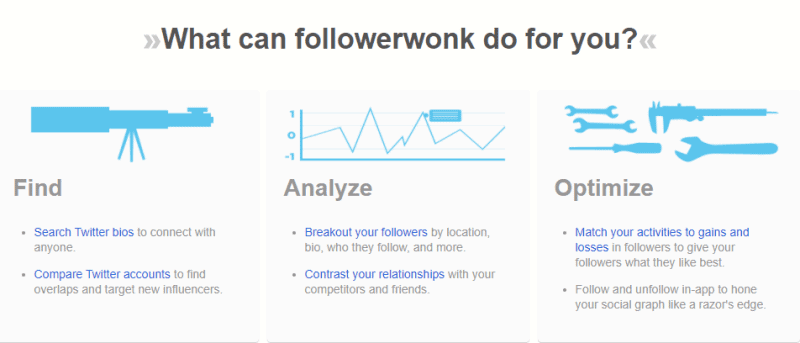 Followerwonk is a powerful Twitter analytic tool that digs deeper into Twitter data and discovers unmatchable insights to grow your online presence. You can find new followers and influencers, sort them based on demographics, and track their interaction with your brand. You can also view how your followers relate with you compared to your competitors.
Price:
Connect: Free
Target: $29/month
Multitask: $79/month
Best For: Followerwonk shines in its ability to sort followers by tweets, followers, account age, etc. You can also find influencers in your niche and compare their profiles to choose the ones that align with your audience the best.
17. Desygner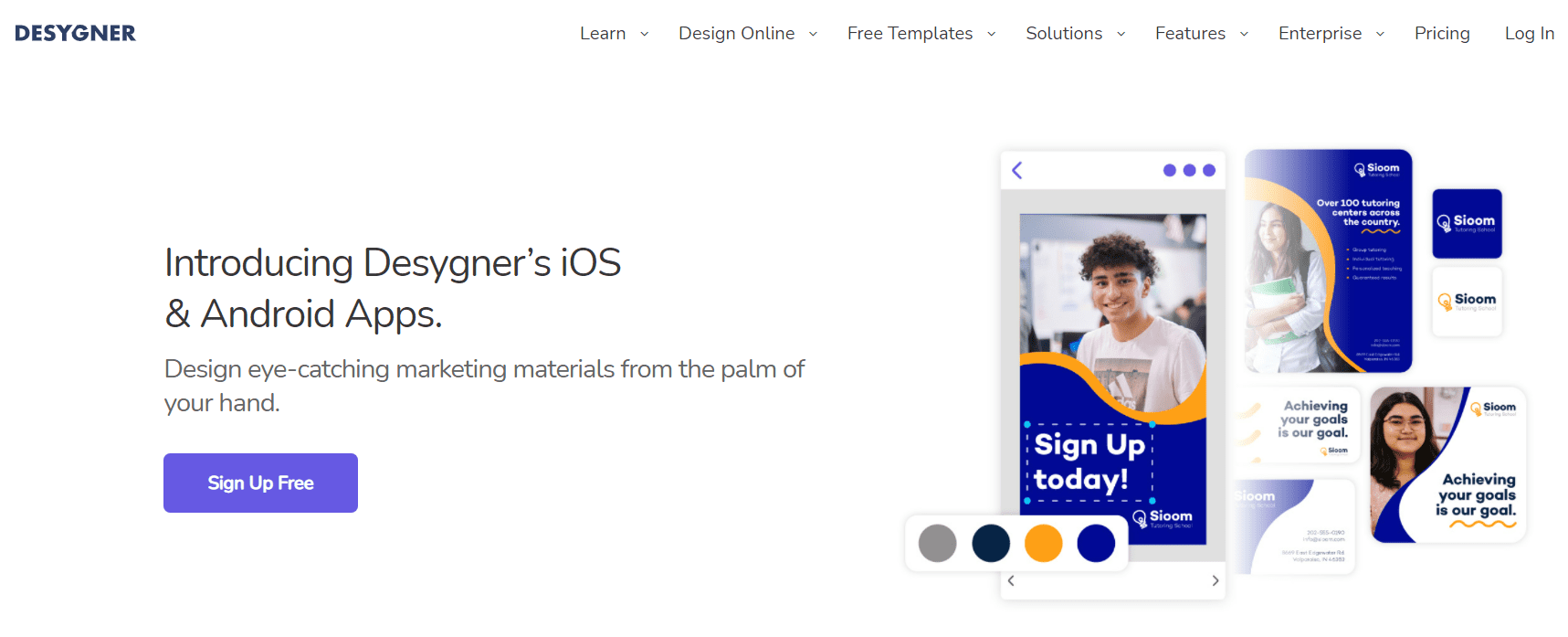 Desygner is a powerful graphic design tool that empowers you to create designer content for social media without possessing graphic designing skills. It's a simple drag and drop interface that allows you to work in layers to offer you the maximum opportunity to explore your creative expression. It has three apps, graphic design app, PDF editor and logo maker app.
Price:
Free
Pro+: $5/month
Business: $10/month
Enterprise: Customized
Best For: It has a huge repository of resources, tutorials, free templates, a variety of typography and shapes, and formats suitable for different social media platforms and print. Accessibility from different devices is also a huge advantage.
Affordable Social Media Management Tools—Almost As Good As Free
18. Post Planner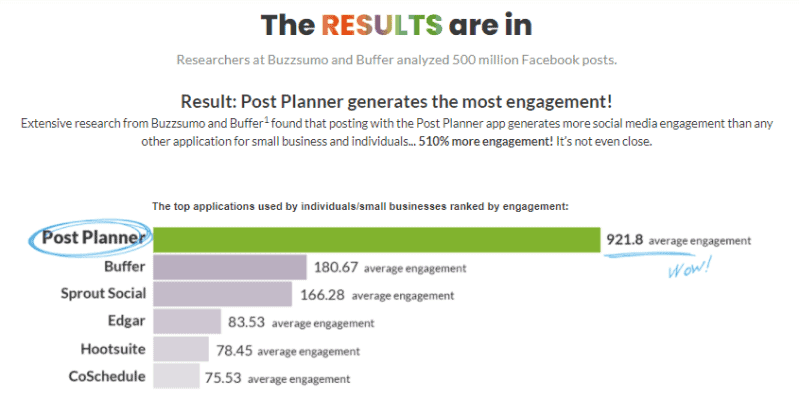 Post Planner offers you all the perks of a typical social media management tool. You can create bulk scheduling and set the tool to repeat your high-performing posts at a specific interval.
Moreover, the analytics discover the best time to publish content for each platform. You don't need to make wild guesses anymore.
Price:
Starter: $3/month
Love: $12/month
Guru: $24/month
Best For: The discovery engine scours the interest to help you find the best performing content that resonates with your audience. When you publish similar content, you're sure to get high conversion. Marketers using Post Planner report getting 510% more engagement.
19. PromoRepublic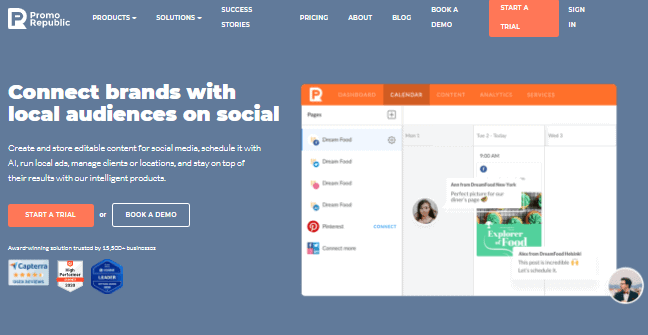 PromoRepublic is another affordable social media management tool that is as good as free. You can set a different posting schedule for different clients based on their time zones and the types of posts and social media platforms.
The centralized calendar not only shows your post schedules but also displays upcoming events. It has a robust digital editor with the feel and capability of Canva without going out of the PromoRepublic. Then you can instantly schedule your graphics for all major social media platforms, especially visual apps like Instagram and Pinterest.
Price:
Solo: $9/month
Standard: $49/month
Professional: $99/month
Enterprise: Custom
Best For: Post ideas for upcoming events are perhaps the most exciting feature of PromoRepublic. Each idea comes with vibrant pre-designed graphics that you can easily edit in its digital editor. You can choose from images, animations, quotes, articles, and contests based on those post ideas, ready for you to use.
20. UberCircle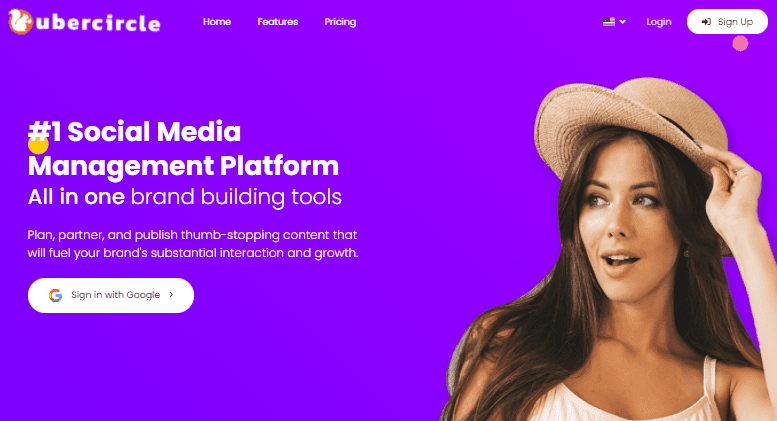 For all the features a social media management tool should have, UberCircle has a very affordable price. Besides scheduling content, engaging with the audience, and measuring the results, you can use UberCircle to find influencers in your niche.
Price:
Starter: $12/month
Standard: $20/month
Premium: $40/month
Medium: $189/month
Large: $380/month
Enterprise: $1190/month
Best For: UberCircle is easy to navigate, and you can see your content, photos, videos, captions, all at one place. Another good thing about UberCircle is that you can access it from your mobile, desktop, Dropbox, and even Google Drive.
21. Smarter Queue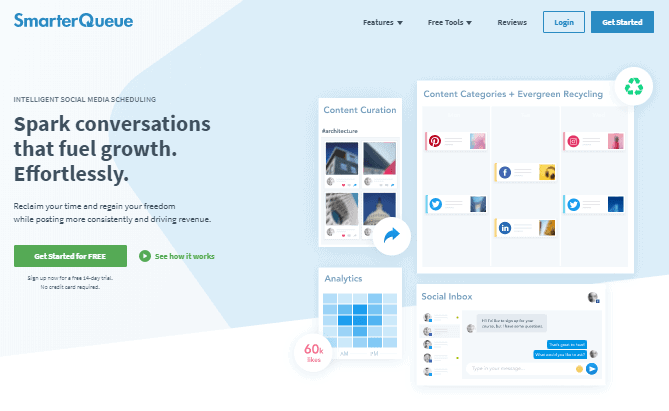 Smarter Queue leverages the power of data analysis to give you some cool features based on your social media stats. Like Hootsuite and Sprout Social, it's also an all-in-one platform with an organizable visual calendar to get a birds' eye view of your posts' timeline.
It's Instagram Scheduler is a lot like Later in its ability to generate a visual replica of your Gram feed so you can preview the final look and make necessary changes.
What makes Smarter Queue unique is its top posts tool reporting. It collects your best performing posts on Facebook, Twitter, Instagram, etc. and identifies the hashtags and mentions that generate the highest results. Then you can use them to create new, better-performing posts.
Top Nine tool is a favorite among Insta users as it helps pick your nine best performing photos and creates a collage from them to repost. Many users report remarkable engagement in such posts.
Price:
Solo: $14/month
Business: $27/month
Agency: $53/month
Custom: Starting at $14/month
Best For: The Evergreen Recycling tool optimizes your content according to how people discuss your brand and where you stand against competitor data.
22. Social Bee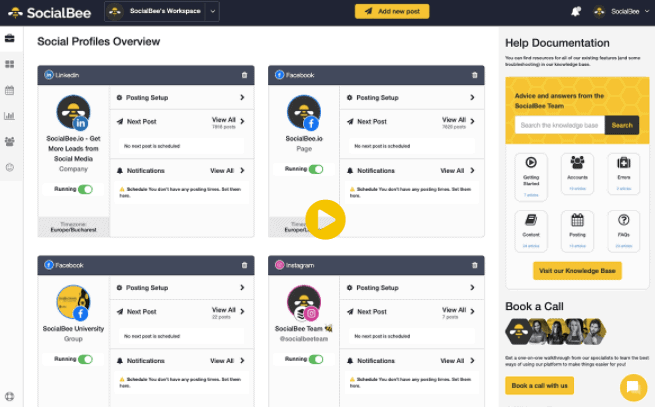 With Social Bee, you can import content from various platforms, edit it and schedule to publish it on dozens of networks. Set post expiration dates and post frequency for evergreen content. It can also send you automatic reminders and updates to keep you updated.
Like any useful SMM tool, you can collaborate with your team members and delegate tasks. Through competitor analysis, Social Bee helps you keep up and beat the competitors at social media marketing.
Price:
Bootstrap: $19/month
Accelerate: $39/month
Pro: $79/month
Best For: Social Bee allows you to categorize your posts in multiple ways based on post frequency, social media platform, and custom categories for events, contests, or giveaways.
23. CoSchedule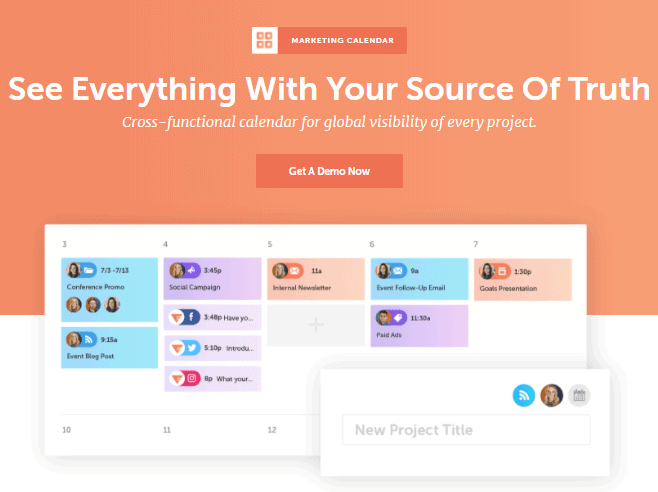 Unlike other social media tools, CoSchedule's calendar isn't any ordinary scheduling interface. It's a powerful tool where you can create your social media content, schedule it, and coordinate with your team without hopping between tools, tabs, or pages. You can also schedule events, plans, posts, and whatnot through this calendar.
Price:
Blog Calendar: $19/month
Marketing Calendar: $39/month
Marketing Suite: Custom
Best For: The all-in-one calendar is marketers' favorite. CoSchedule also helps you find your best performing posts and reschedule them to fill your calendar gaps.
24. MavSocial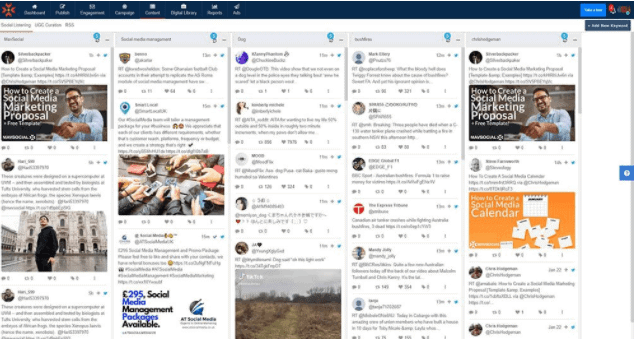 MavSocial is an SMM tool with a pulse on the latest industry trends. The social listening feature helps you track keywords and discover engaging topics within your niche. Furthermore, it has built-in stock image libraries where you can manage and edit your posts with some powerful editing tools.
MavSocial specializes in visual content and can integrate with Facebook ads as well.
Price:
Advanced: $19/month
Pro: $78/month
Business: $199/month
Enterprise: $499/month
Best For: MavSocial's extensive multimedia library and social listening tool are its best features. With your finger on the pulse of changing industry trends, you will be in a better position to create your SMM strategy accordingly.
25. Tailwind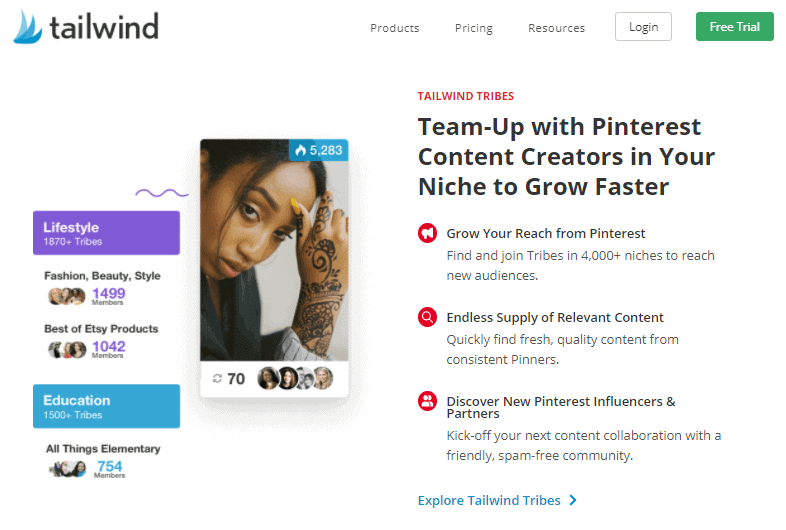 Tailwind is the most famous top social media management tool for Instagram and Pinterest. It's a visual tool with many features specific to photos and short videos for visual platforms. You can schedule, publish, and monitor posts and also discover the best times and the perfect hashtags to increase your Pinterest and Instagram engagement.
Price:
Pinterest Plus: $15/month
Instagram Plus: $15/month
Best For: Tailwind tribes grow your reach and help you find influencers in your niche for collaboration and joint campaigns. SmartLoop is another ingenious feature that allows you to set reposting loops for your seasonal and evergreen content. Just set it and forget it!
26. Edgar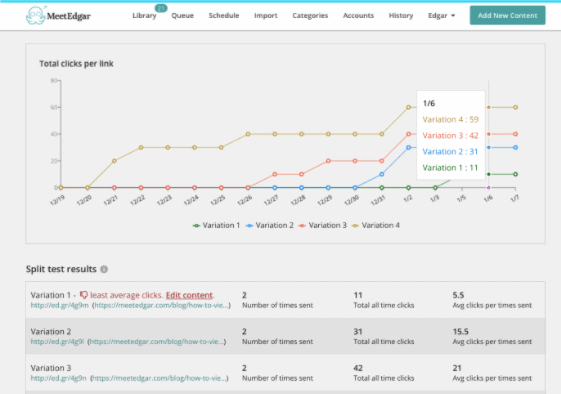 Edgar focuses on automation, from scheduling to content creation. It can pick post-worthy quotes from your online assets such as blogs and shops and convert them into posts customized for each social media platform.
Once you reach the end of your queue, it keeps rotating your previous posts, slightly changing them to make them unique. Just create a library with different categories, and allot each a time slot, Edgar will pick up your posts, adjust them according to the category and fill up the spaces in your calendar.
Price:
Edgar Lite: $19/month
Edgar: $49/month
Best For: Category-based scheduling is by far the most exciting aspect of Edgar. Moreover, you can perform split testing with your posts to see which ones drive more traffic to your site.
27. Skedsocial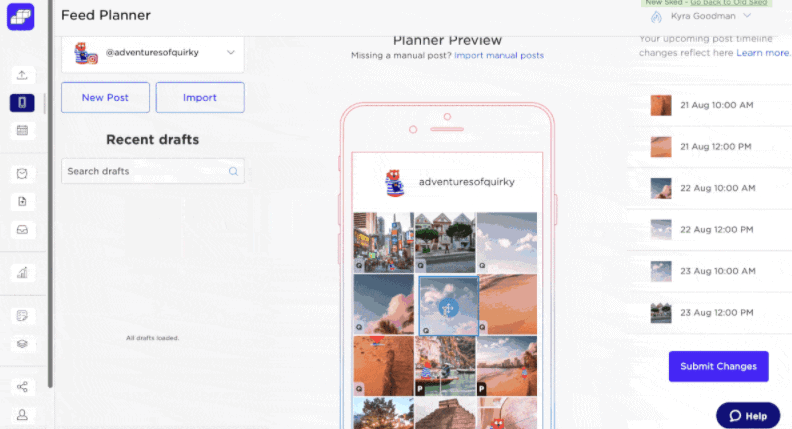 You can automate most of your repetitive social media management tasks with Skedsocial. It's a  visual platform, most popular among Instagram and Pinterest users. Besides creating, scheduling, and publishing your content, it can also find your social mentions and collaborate with your team and clients to implement your social media strategy like a well-oiled machine.
Price:
Fundamentals: $25
Essentials: $75
Professional: $135
Enterprise: $260
Best For: The in-app photo editor is a time saver. Besides the usual analysis of the best time and day to post, the detailed reports on story analytics, demographics, etc. are Skedsocial's are popular among its users.
28. Loomly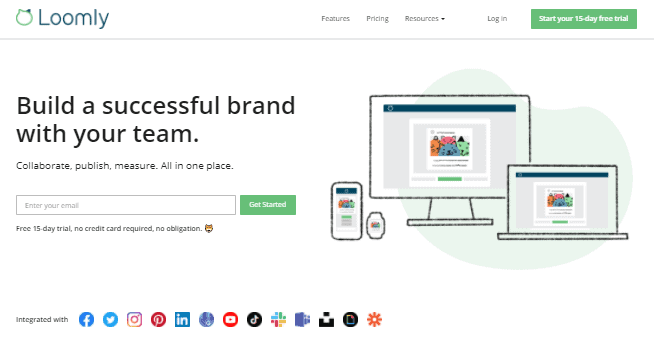 Loomly is a simple and easy-to-use tool for beginners and startups who are just dipping their toes into social media marketing. Once you're ready to scale, you can upgrade your package to grab all social media marketing benefits.
With Loomly, you get post suggestions and optimization tips to craft posts for better engagement. You can also add your team members and assign them roles for a smoother, quicker workflow.
Price:
Base: $25/month
Standard: $57/month
Advanced: $119/month
Premium: $249/month
Enterprise: Custom
Best For: Clean interface without any complicated features and processes make Loomly an SMM tool of choice for small and medium businesses.
29. SocialPilot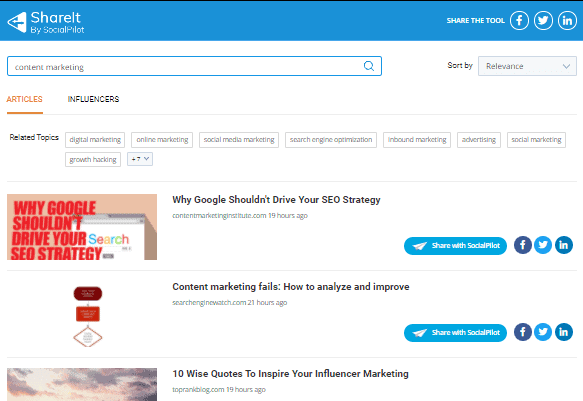 SocialPilot has a clean and organized dashboard for scheduling posts and displaying analytics. You can share reports with clients, including white-label reports crucial for your branding efforts. All in all, it's an excellent tool complete with social inbox, team manager, client manager, and multiple content discovery methods for better niche-level content curation.
Price:
Professional: $30/month
Small Team: $50/month
Agency: $100/month
Enterprise: Custom
Best For: SocialPilot is affordable for all the features it offers. One-click white-label pdf reports are incredibly valuable along with the fact that SocialPilot is a complete SMM tool with all the features a social media marketing team requires.
30. Sendible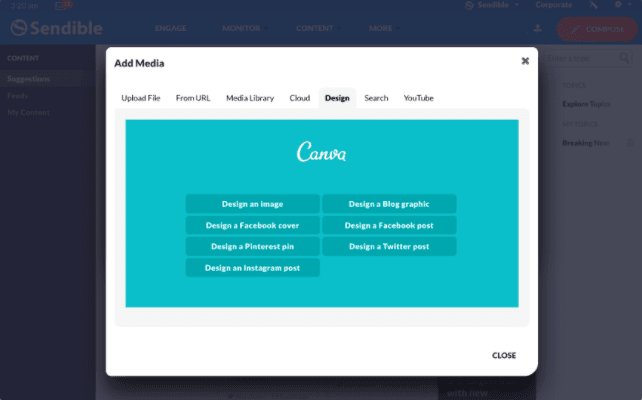 Sendible is all about pixel-perfect content. In addition to all the usual features of a typical SMM tool, Sensible allows you to preview your posts for each platform separately. It has a built-in editor, integrated with Canva so you can customize your posts precisely the way you want.
You can select great graphics from its royalty-free image search and explore Youtube to curate your useful content.
You can also design your dashboard for your convenience. Sendible is specifically designed for big agencies with multiple clients. You can set approval workflows with clients and team members to ensure all your content aligns with your brand's values and ethos.
Price:
Starter: $29/month
Traction: $99/month
Growth: $199/month
Large: $299/month
Best For: Sendible has many automated features that can save you from repetitive tasks. It can generate and send analytic reports on one click, or you can automate it to send custom reports regularly.
31. NapoleanCat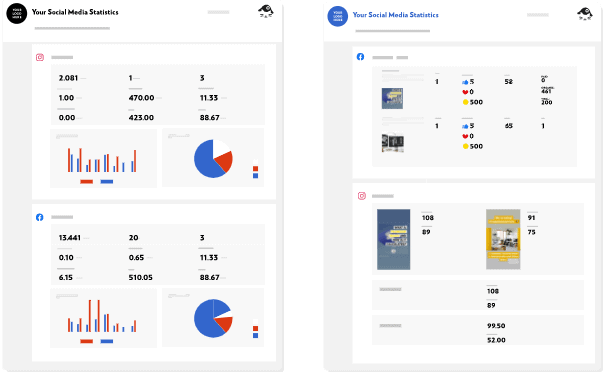 Being an official Facebook marketing partner, NapoleanCat is a fantastic tool adept in helping small businesses improve their social presence. Once you publish through this SMM tool, it monitors your posts and ad performance and generates automatic reports. Based on these reports, NapoleanCat gives you suggestions to improve your responses, times to publish, and report settings.
Price:
Standard: $27/month
Pro: $55/month
Enterprise: Custom
Best For: Through the NapoleanCat social inbox, you can not only interact with your audience but also set up automatic responses to typical pre-sale inquiries.
32. E-Clincher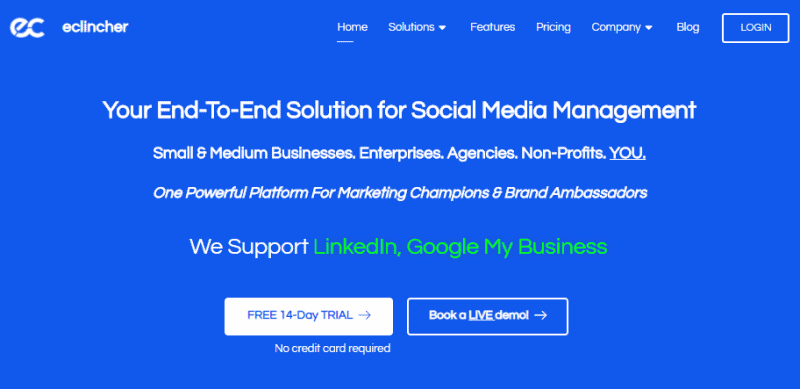 E-Clincher does all the regular SMM tasks such as scheduling, posting, and monitoring social media content. It has a unified post calendar like Hootsuite and a unified inbox like ContentCal.
You can respond to all the messages, set priorities, and automate responses. You can handle all your social media conversations and collaborations with teams through this single inbox.
Get all the analytics for the competitor reports, cross-channel analysis, and evaluation of your campaigns and hashtag performance on its dashboard. You can also save your images in the built-in media library to reuse later.
Price:
Basic: $59/month
Premier: $119/month
Agency: $219/month
Best For: E-Clincher can auto-post with RSS feeds and smart queues, which repost your best performing posts automatically. You can also search for different social media influencers through this tool.
H2: What Are the Benefits of Social Media Management Tools?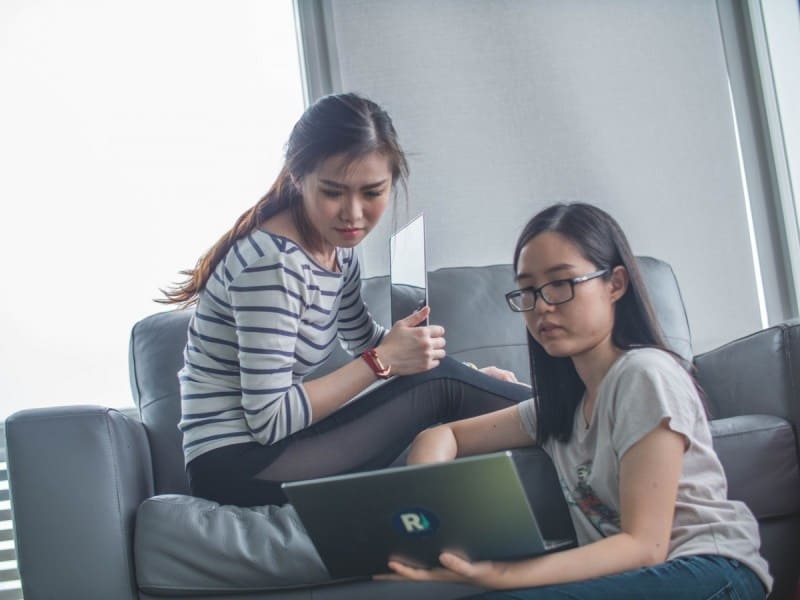 Brand visibility has never been more crucial for businesses due to reduced attention span and choice overload. Social media is one of the best ways for brands to remain in their customers' eyes without disrupting their peace of mind.
But there are uncountable social media platforms with a goldmine of data that cannot be parsed manually. Creating, posting, and engaging an audience on different networks daily or many times a day is a tedious task.
Social media management tools automate repetitive tasks and streamline everything to lift the burden off of your shoulders. Let's have a look at all the benefits of social media management tools and why investing in one is the right move for your business and sanity.
Better User Engagement: Social media management tools make it possible for you to be present on all media channels at once. The centralized inbox allows you to answer their questions, respond to their criticism, and acknowledge their praise quickly. It shows your audience that you care and are responsive to their needs.
Manage Multiple Social Pages: Successful social media campaigns rely on various platforms and social profiles. Managing all these pages and profiles is not an easy job. With SMM tools, you can manage them all multiple times a day at one spot and save a ton of time and effort.
Monitor Keywords: Keywords are an effective way to keep a tab on your brand mentions. People often don't tag brands when they complain or praise their products. Social media tools monitor your branded keywords and associated hashtags to keep an eye on your brand reputation. Keyword monitoring also keeps you updated on changing industry trends and helps you strategize accordingly.
Performance Analysis: To make your content resonate with your audience better, you need historical data and thorough analysis to know what works and what doesn't. But keeping track of user engagement and conversion manually is impossible. Typically, all SMM tools monitor various vital metrics and suggest ways to optimize your social media strategy accordingly.
Improved Customer Relationship: Today, people need quick, customized solutions for their problems. There's no better place to understand your audience well enough to respond to each of them in a special and unique way. Social media management tools create an in-depth persona for your followers so you can personalize their interaction with your brand. They also keep your conversations safe to guide future correspondence.
Team Collaboration: Social media marketing is a team effort for most businesses and agencies. Due to time zone differences or sheer size and number of social accounts, each team member can have a separate task. The shared inbox in an SMM tool streamlines the workflow by keeping all the team members in the loop.
Social media management tools are a necessity for any business serious about scaling its social media marketing efforts. Whether you go the organic way or wish to leverage Instagram or Facebook ads' full potential, you must have at least one SMM tool in your arsenal.
Most of these tools are free or as good as free due to their low price. So, which one of the above free social media management tools do you use? Did we miss your favorite one? Tell us in the comments below!
Author
Karli is content marketing consultant behind Wild Idea, a content marketing and SEO collective focused on driving big results. With over 12 years in the marketing industry, she's worked with brands large and small across many industries to grow organic traffic and reach new audiences. She writes on everything from marketing, social, and SEO to travel and real estate. On the weekends, she loves to explore new places, enjoy the outdoors and have a glass or two of vino!
30+ Best Free Social Media Management Tools For Business