Forbes defines proptech as businesses that utilize technology to improve how residential and commercial property is purchased, rented, sold, designed, constructed, and managed.
The proptech market is expected to grow at a CAGR of 16.8% from 2022 to 2032. The future of RE belongs to proptech, no doubt, even though the market is still far from being saturated.
Many people in real estate still feel reluctant to adopt the technology. So, proptech companies will need to educate their target audience and showcase the ROI of their products to win the market successfully.
Content marketing strategies will need to focus on building trust and buy-in from brokerages, agents, or whoever their target market is. This article will explore the best ways proptech companies can leverage content marketing to gain a competitive advantage and grow their brand organically.
Download: https://getwildidea.com/content-strategy-template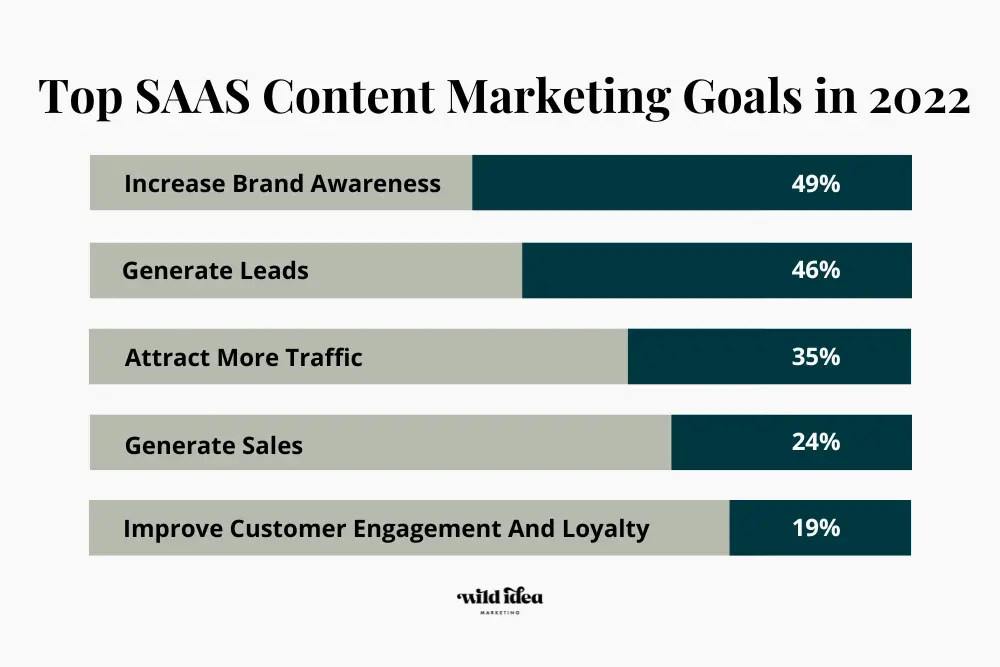 Content Strategy Goals for Proptech
Defining your marketing goals is the first step in developing a successful content strategy. Obviously, the goals should be SMART, i.e., they should be specific, measurable, attainable, relevant, and time-bound. With clear goals, you can design a roadmap to achieve them.
Brand Awareness and Authority
You know your offering is awesome‒it can make a huge difference in your customers' lives‒but does your target audience know that? A decade ago, people wouldn't have cared if 74% of brands had disappeared from the market. Compare it to today when the market has many big and small brands competing for customer attention. People would care even less if your brand existed or not.
In the current market, a brand can have a firm footing only if it can become a household name for its consumers. Especially in the real estate world, buyers are concerned with utilizing the hottest tech and the most prestigious brands, so ensuring yours has a sterling reputation is important.
So, increasing brand awareness and establishing your authority in the RE market should be one of your priorities.
LionDesk is a powerful customer relationship management (CRM) platform that helps real estate agents and mortgage brokers stay at the top of their game. It's a robust product with an influential blog that does an excellent job of raising awareness about the usefulness of CRM and how to get the most out of it.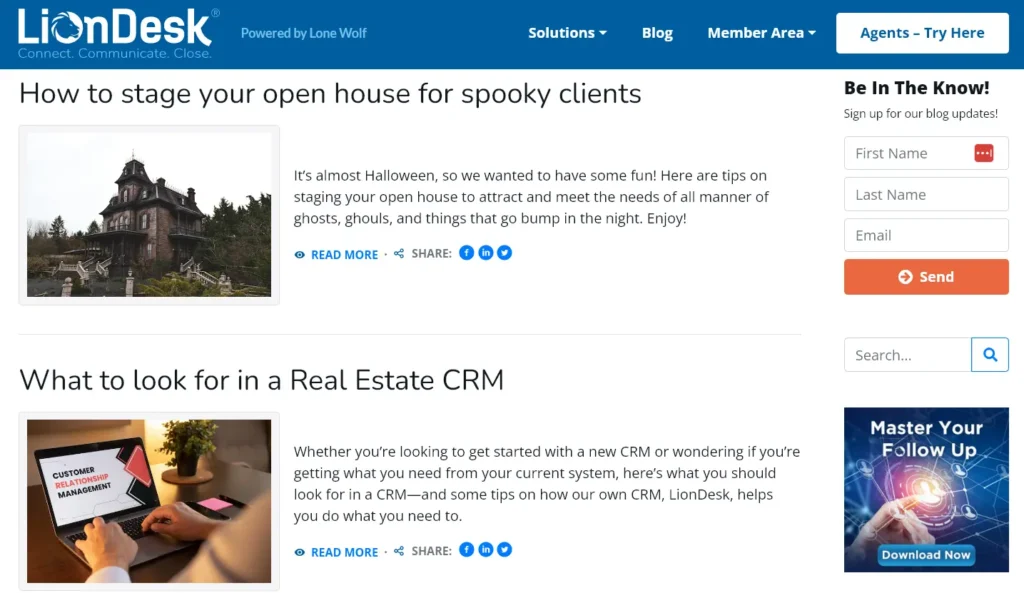 Organic Traffic Acquisition
Increasing organic traffic is the most cost-effective way to grow sustainably. In addition, many of the marketing tactics you'll employ to generate organic traffic will complement and reinforce your sales and customer success strategies as well.
Almost all (94%) search engine traffic comes from Google, so following its guidelines is crucial. Google's helpful content update has made it clear that keyword usage and post structure aren't enough to win Google's favor. The content you create will need to truly answer the queries customers have and put potential customers' interests and concerns at the forefront.
It will need to include original opinions, proprietary statistics, and accurate answers to the questions at hand. Gone are the days when creating a slightly elevated carbon copy of the top-ranking piece would work.
Research your keywords well and really put yourself in the shoes of the searchers. For example, what kind of information would you be looking for if you were a real estate agent searching for a lead management tool? Brainstorm with your colleagues or interview a few real estate agents to understand your potential customers and their pain points.
Write your content after thorough research and deliver the exact information your target audience is looking for, and you will increase your chance of winning the number one spot. Why is that important? Backlinko analyzed 4 million Google search results and found that the 1st organic result got 27.6% of the clicks on average, and more clicks mean more traffic to your website.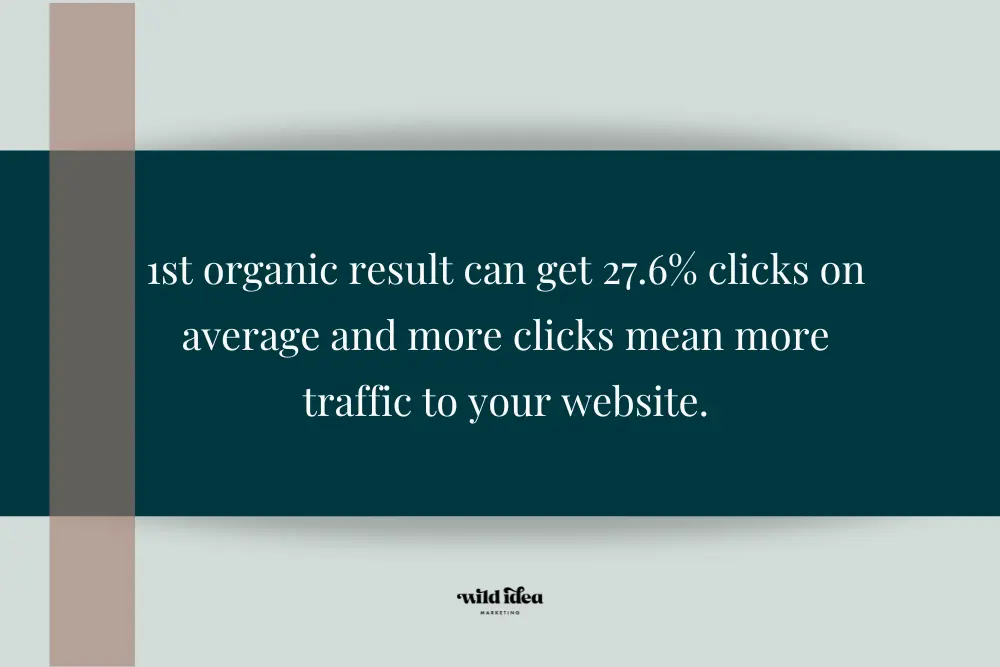 Lead Generation
Lead generation is perhaps one of the most crucial goals for any business. Content marketing can generate 3x more leads for your proptech business than traditional marketing. It also costs 62% less, which means you can get more leads for less money with content marketing done right.
However, more leads don't mean you'll get more business. First, you need qualified leads who will have a better probability of buying from you. Secondly, you need to nurture these leads till they're ready to spend. Thoughtfully created content can do both for you.
First, you'll want to create content that answers questions your ideal customer will be asking. For example, if you're targetting C-level marketers at real estate brokerages, you shouldn't be answering questions aimed at agents or low-level marketers.
Secondly, you want to weed out potential "bad" leads through your content. In fact, it's your duty to use your content to help your target audience recognize whether your offerings are a good fit for them or not.
Your content can act as a filter and let RE stakeholders decide whether they'll get what they're looking for from you or not. They'll be ready to convert if they think what you offer can benefit them. Conversion can be as simple as signing up for a newsletter, downloading a resource, or signing up for a demo.
Prominent proptech players like Zumper earn a major share of their leads through effective content marketing strategies. Zumper has a blog dedicated to providing valuable rental information to potential renters. They have converted it into a lead generation tool by linking internally to service pages and allowing readers to search the rental market quickly. Then, those leads can be passed off to rental agents or sold to other brokerages.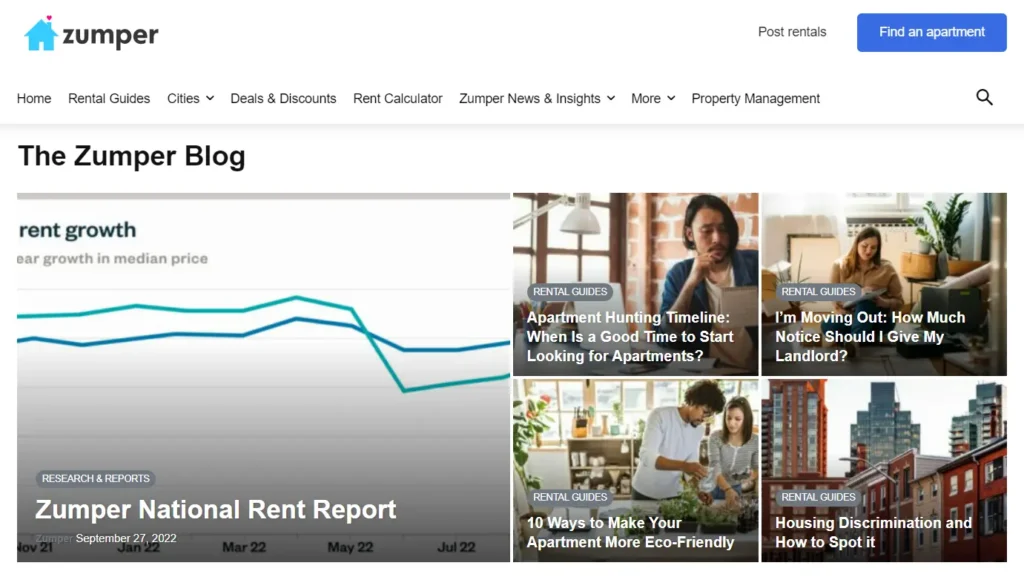 Also Read: Content Marketing Strategy For Femtech Brands: Here's How to Market A Female Brand
Product Demo Or Trial Signups
In order to warm potential customers, product-focused proptech companies typically offer free trials or product demos. Customized or tailored demos are an excellent way to engage prospects and build a relationship, especially with people in real estate who have been used to doing everything manually for decades.
Tailored demos involve close communication between the potential customer and the sales rep. It gives them a chance to get answers to all their questions and really experience what the product can actually do to solve their problems or improve their efficiency. That's ideal because a whopping 71% of customers buy because they trust, like, and respect their salesperson.
Your content can motivate your readers to test your products and signup for trials and demos. For example, this article by Acendix is not only helpful and informative but also presents Acendix's solutions in a positive light. CTAs, at regular intervals, invite the reader to signup for a free cost estimate while the content in the article warms them to the offer.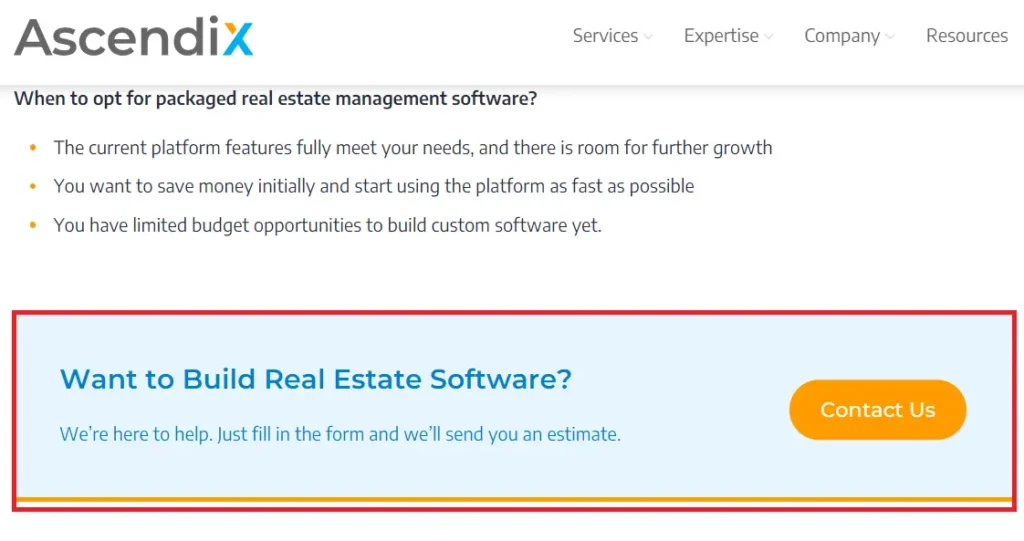 Educating RE Stakeholders
Whether it's your goal or not, content marketing will almost always help your audience learn a thing or two if you do it right. For proptech companies, educating your potential customers is something you cannot ignore.
Realtors and brokers can be reluctant to adopt new technology and innovative ideas. Since they're in sales themselves, they may not be easily convinced unless you REALLY show them how your products can help them and JUSTIFY the cost and effort they'll have to put in to replace their legacy systems.
Ribbon is doing a great job at helping RE stakeholders, agents, homebuyers, lenders, and builders before presenting their products as possible solutions. They have a vast resource library complete with guides, FAQs, and blog posts. They also offer regular webinars to keep their audience engaged, informed, and interested.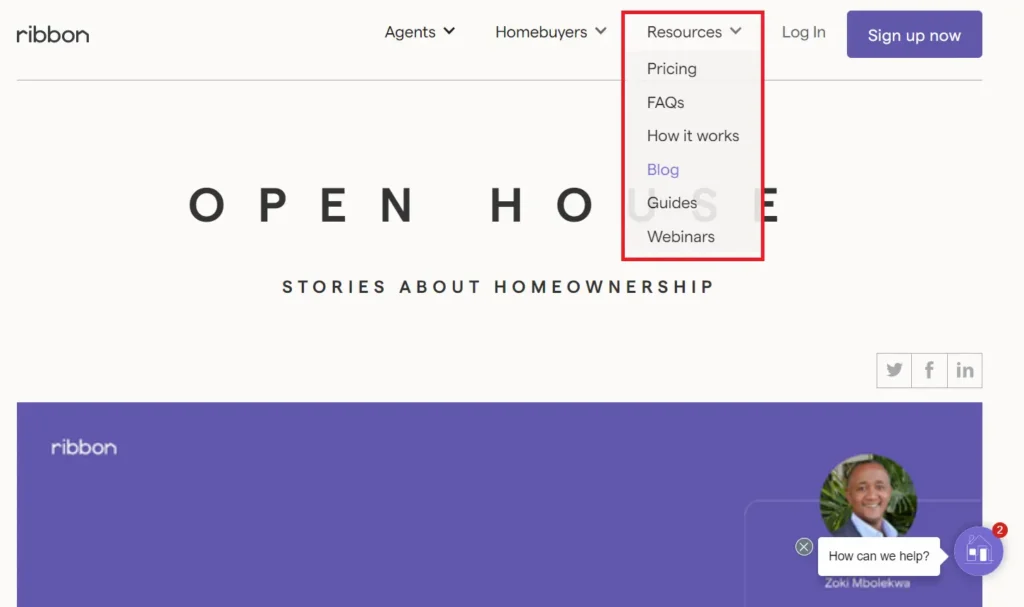 Read More: 5 Content Strategy Types To Meet Your Goals
Content Marketing Tips for Proptech Brands
Consumers in the RE market tend to buy products from brands that have established themselves as experts. That's why the content marketing strategy for your proptech business must position you as a leading voice in the real estate world.
What can you do to gain your potential customers' trust? As for shortcuts, there are none! Rather than blindly promoting your product, you need to make them accept that you know what you're doing, you understand their struggles, and that you can truly help them.
Here are a few content marketing tips that will help you build a proptech content marketing strategy that truly wins customers.
Let Data Guide Your Strategy
Data usually drive innovative technologies, and data-driven content is often uncontestable. If the content is the king, then data can be considered its chief advisor. No wonder leading marketers are 72% more likely to invest in improving their data acquisition efforts.
You can create valuable and unique content by using customer data to create content that meets modern consumers' demands and expectations. You should also use this data to decide which keywords to choose for YOUR audience instead of blindly creating content on just any relevant keyword with good ranking potential.
Put SEO At The Forefront
Did you know that SEO accounts for 75% of organic traffic for SAAS companies? It's no different for SAAS companies in the proptech space. For this reason, having a well-crafted SEO strategy is imperative, especially if you're in the product or SAAS spaces.
As a proptech company, you should know the pain points that your ideal customers are facing. To create conversion-driven content, you should identify topics and keywords that will meet them at every stage of the funnel.
More broad inquiries will sit at the top (TOFU), while solutions to problems that your offerings can solve will sit toward the middle and bottom. In most cases, we like to begin with that more conversion-focused bottom-funnel (BOFU)content.
Tools like AHREFs can help you determine which keywords you brainstormed have higher search volume, more clicks, or more link potential. In general, with TOFU topics, you're going for more search volume and lower competition. For BOFU content, search volume doesn't matter as much since conversions on that content will naturally be higher. Even zero-volume searches can bring in traffic and qualified leads, so don't leave anything out that you think might be valuable!
Once you choose the plan of attack, you need to create best-in-class content to position yourself as a leader. Don't just sit down and regurgitate what's out there already— add your own data, opinions, and points of view!
Google the keywords you will be working with and check out the competition. What can you add to the conversation? What's missing? What's generally always included?
Analyze this content and REALLY think about how you can improve on what's out there. For example,
Do they lack original statistics/data?
Is the content thin, or do the images need an upgrade?
Is there an angle that hasn't been explored but should?
Are the current SERP winners truly answering the intent of the search??
Once you've thought things through, you can write the best, most helpful content on the topic.
Want Us To Create A Content Marketing Strategy For Your Proptech Business?
Make Trust Building A Priority
Successful proptech brands are built on the foundation of trust. Building trust through content marketing is even more crucial. A survey found that 44% of digital consumers don't fully trust digital services. Different industries have different ways of building trust with consumers.
This is especially true in the real estate industry.
Establishing your business as an authority in the industry through authentic content can truly build trust and loyalty. Teach your customers how you solve their problems, show them case studies so that they can see success stories, and develop use-case materials so that they understand how to use your offering if needed.
Consider content marketing as a support rather than a sales tool. Don't overwhelm your readers with listings or hard sales. Just inform them with integrity and honesty.
To make a lasting, positive impression, you MUST stay true to your mission, tell a story worth hearing, and add value to your customers' lives.
Focus on Conversion Content
As we touched on in the SEO section, the content marketing strategy for proptech should primarily focus on conversion. Most realtors and brokers are sales-minded, so they are more likely to gravitate toward product pages and comparison content that can assist them in reaching a decision quickly and confidently.
This should be included alongside your BOFU blog-style content but will often live in another area of the website. Many companies like to feature this type of content prominently in the navigation or section off a portion of the blog for comparisons, vs., and alternative suggestions.
However you choose to arrange it, ensure that you're giving ample attention to keyword grouping and always keeping search intent and sales funnel stages top of your mind.
Think about which keywords fall into the "conversion content" category and, from there, cluster them together so that like is with like. For example, all comparison pages can be grouped together, and all alternative choice pages can be grouped together. Same with case studies and BOFU blog content that positions your product as a solution.
Once you have grouped your keywords, think about what information the searcher would be looking for when searching for this keyword. Ensure you include information that will help them make a decision and not simply plug your own offering.
From there, you can drive them to product trials, demos, or a meeting with the salesperson.
Reggora promises quick appraisals, and if you visit their blog, you will notice that a big chunk of their content is focused on conversion. For example, this blog post provides helpful and concrete information about how lenders can measure the performance of appraisal management tech. Then it boldly invites them to a demo after equipping them with information on how to test their tool's performance.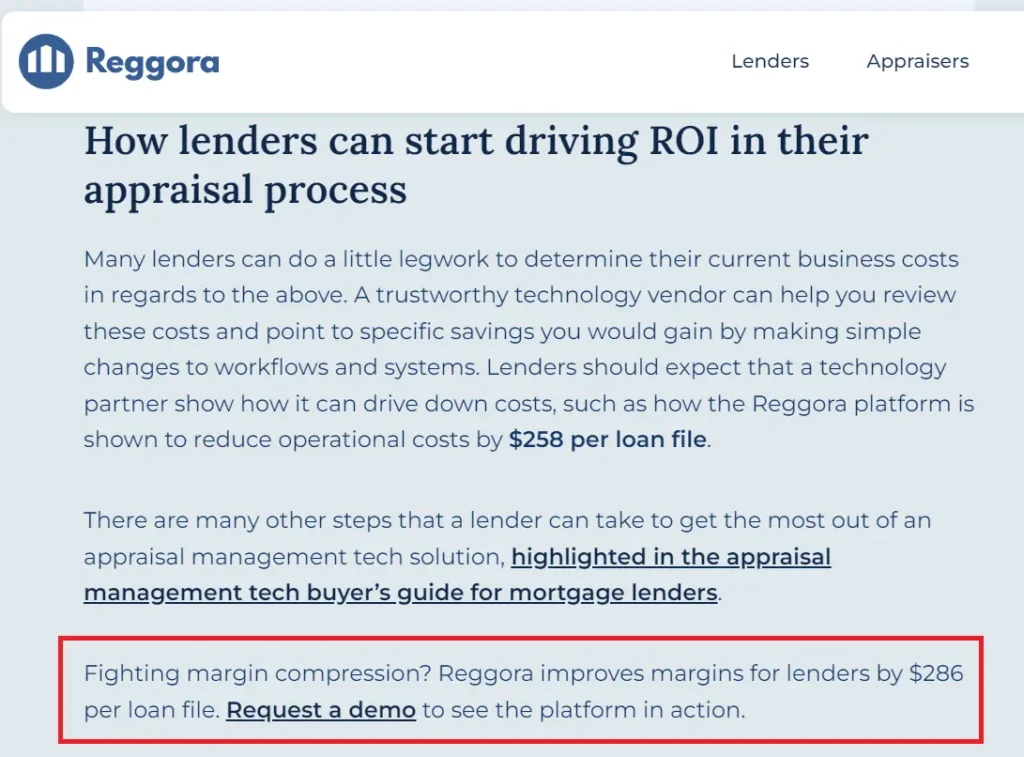 Have Measurable Goals And Monitor Them
The number of unique visitors, duration of sessions, and goals (such as newsletter signups) are some of the standard KPIs to measure the performance of a content marketing strategy. In addition, proptech companies should also measure the following metrics:
Measure the number of people who register for a free trial or demo.
Track the path visitors take to reach the landing page for trial or demo sign-up. Notice which path ended in the most number of successful signups.
Measure customer acquisition cost (CAC) and lead conversion rate (LCR) to ensure efficient marketing expenditure.
Measure customer experience and use it to tweak the content marketing strategy for your proptech products.
Analyze performance data to make adjustments toward meeting your goals in the most efficient way. It can help you decide which posts to promote and what kind of content you should focus on to achieve more success.
Weave In Passive Link Building
Even with Google clearly rewarding truly helpful content, you cannot ignore link building. As we see it, the update will push organic links even more to the forefront because if your content is valuable, people will read and share it naturally.
Passive link building takes it up a notch as you bake organic link building into your content strategy. Here are a few ways you can do this.
During keyword research, prioritize topics that have the potential to be referenced by other content creators.
Consider topics that usually attract more links, such as statistics, comparison posts, how-to guides, etc.
Piggyback on competitors by analyzing their blogs and identifying content with the most referring domains.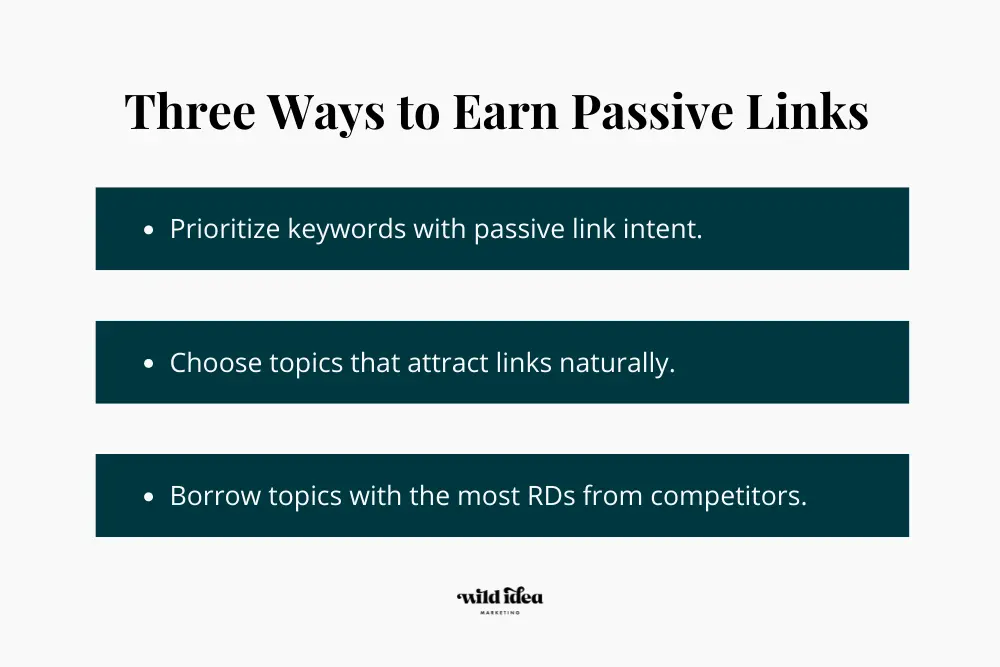 Read More: How to Earn Passive Links Through Content Marketing
Use Stellar, Helpful Content to Win the Game
Real estate is a hard-sell industry where potential customers are typically less focused on feelings and more on hard facts. RE stakeholders are not likely to be swayed by superfluous words, so your content should be straightforward, simple, and practical. Here are some content types agents and brokers will be inclined to read and accept.
Blog Posts
Proptech users will prefer problem-solving posts, case studies, and posts about industry trends and the latest statistics. Many of these topics align with MOFU and BOFU content, and it makes sense since your target customers are experts in sales themselves. It's a win-win for you as well since MOFU and BOFU content typically has a higher conversion rate.
You will also need TOFU content to educate real estate agents or brokers about the problem they're solving. Many times, that's the first step toward a solution. People in the RE market are sometimes so used to doing things the old way they may not be able to appreciate how much time and effort they can save by using technology. In other words, they may not even know there's a problem, let alone know that you have a solution ready for them.
Read More: 25+ Blog Post Templates for Quick Content Creation
Videos
According to estimates, video traffic will account for most online traffic by 2022. A video content marketing strategy can increase revenue by as much as 49%, which makes it an essential content type for the visually rich real estate industry.
You can supplement your blogs with visual demonstrations and walkthrough videos of your products or offerings. Record video testimonials of your favorite customers so your ideal customers can quickly know how to use your product and what benefits they can achieve.
High-Quality Imaging
You can help your target audience understand your proptech offerings by using high-quality images, interactive infographics, or illustrations explaining how your products function or what results people can achieve. High-quality imaging will also boost your ranking and help you claim your position in image search.
Content marketing for proptech companies should take into account the way people in the real estate industry view and use technology. Proptech companies must overcome any resistance agents and brokers may have against innovative products. You will need to convince them why they should forgo their usual ways of doing things and adopt your solutions.
Remember, they are sales-oriented and will buy from you if you can convince them they'll get value for the money they're spending. If you want us to make and implement a winning content strategy for your proptech business, feel free to reach out to us and set yourself up for success.
Author
Owner + Content Marketing Consultant
Wild Idea
Karli is content marketing consultant behind Wild Idea, a content marketing and SEO collective focused on driving big results. With over 12 years in the marketing industry, she's worked with brands large and small across many industries to grow organic traffic and reach new audiences. She writes on everything from marketing, social, and SEO to travel and real estate. On the weekends, she loves to explore new places, enjoy the outdoors and have a glass or two of vino!
Content Marketing Strategy For Proptech: Future-Proof Your Real Estate Business