Great content is your ticket to achieving your business goals, but about 60% of people struggle to create content consistently. You need a content strategy to keep you consistent and set your content up for the win from the start.
You must be wondering–I know the theory of content strategy. I know what's crucial and what's not, but how do I actually get started? What's the first step, and the next, and the next… and what if I get stuck at one point?
Rest assured! You're not alone in this predicament. Many people get stuck even before taking the first step when trying to create their content strategy. That's why we've created this free content strategy template you can use as a blueprint to create your own content strategy.
Our content strategy template takes you step-by-step through the process we take to create winning content strategies for our clients.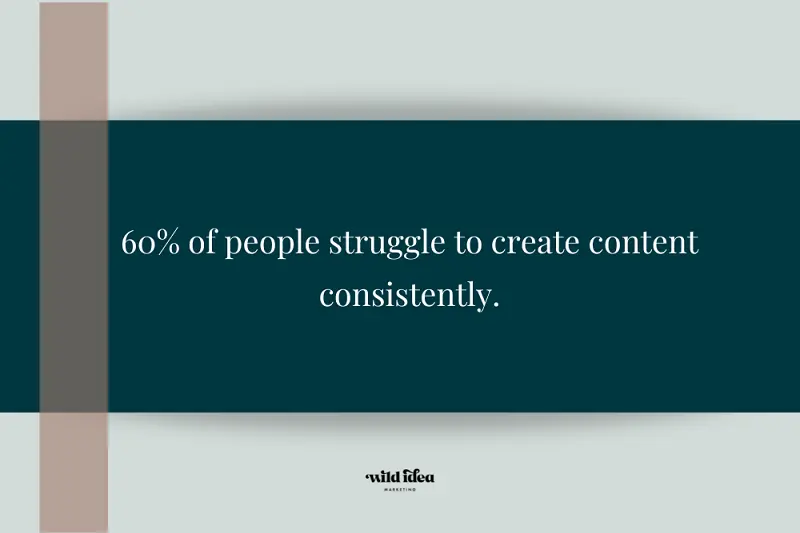 Read more: Types Of Content Strategy: 5 Content Strategy Types To Meet Your Goals
Why Use A Content Strategy Template
With Google becoming more and more able to discern good content from the bad, content marketing is becoming increasingly more competitive. You can't create content blindly anymore! Truly great content is impressive in a standalone context and should add to a broader content strategy that builds topical authority.
To win over Google and your readers, you need to step back and align each piece of your content to your client's business goals. All content pieces need to work in tandem, like a well-oiled machine, to get you the results you expect–and a content strategy framework personalized for your client's brand can help.
That's why we created this content strategy template. It's practical and scalable since it helps you lay out all the vital information you should consider before making a long-term content plan.
As you fill out the template, you will need to think outside the box, perform extensive research, and really think deeply about what your client's brand stands for and what they want to achieve from the content.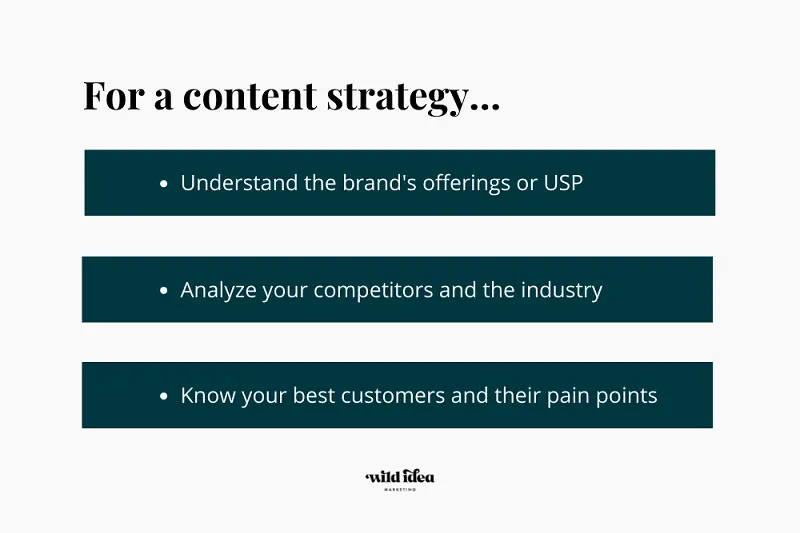 Get Started With Our Free Content Strategy Template
Download or save a copy of Wild idea's content strategy template. Follow each step carefully and fill the blank tables as you brainstorm, using the examples as inspiration.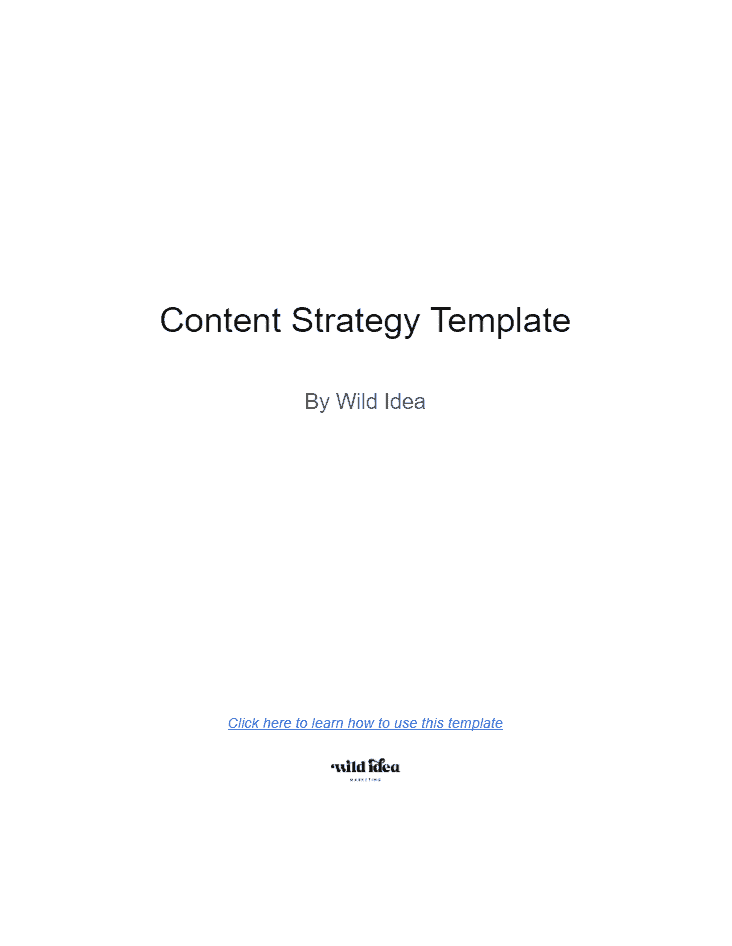 How To Use The Content Strategy Template
Our content strategy template explains each step in detail and with examples. Here's how you can take full advantage of our template and explore its full potential.
1. Set Your Goals Carefully
The goals your client sets will decide the direction of your content strategy. You will use different tactics to achieve different goals, such as generating leads, getting more backlinks, increasing subscribers, or establishing brand authority. However, several goals can often be met using the same content strategy.
Each goal requires a different kind of content, so it's crucial to keep these in mind from the beginning. You don't have to pick one goal‒you can have a few as long as you're clear about what they are.
2. Know Your Domain
There's a famous saying, "If you know the enemy and know yourself, you need not fear the result of a hundred battles." Needless to say, it pays to know what you're up against, right?
There are three parts to this puzzle…
First, understand your client's convictions‒where are they coming from, what's their story, what's the why behind their brand!
Second, pay attention to the overall market. Analyze the competitors, their unique selling prepositions (USPs), and how they stack against your brand.
Third, the final piece of the puzzle is your customers. Who are they, what are their pain points, and how are your offerings related to their needs and wants?
To understand all this, you need to interview your client, customer-facing employees (if possible), and their ideal customers. You can also use software like Chorus or Gong to get valuable insights automatically and save your precious time.
3. Pillar-Cluster Model
Now that all cards are on the table, you can go ahead and pick topics that solve your customers' pain points and help them build trust with the brand. At Wild Idea, we prefer and recommend the pillar-cluster model as a core strategy for content creation and organization.
We pick core topics and then dig deeper into them with the help of keyword research. This method not only sets a loose parameter for your keyword research but also helps you not lose sight of the bigger picture.
Identify subtopics and suitable long-tail keywords to go with them. If conversions are your goal, prioritize keywords with high conversion potential. These are usually related to the middle or the bottom of the funnel. However, if you're writing for brand awareness or topical authority, you should focus on top-of-the-funnel topics.
The approach you use for selecting topics depends on what you want to achieve from your content. So, keep your specific goals in mind when developing a strategy. We use Ahrefs for keyword and competitor research, but you can use any tool you prefer.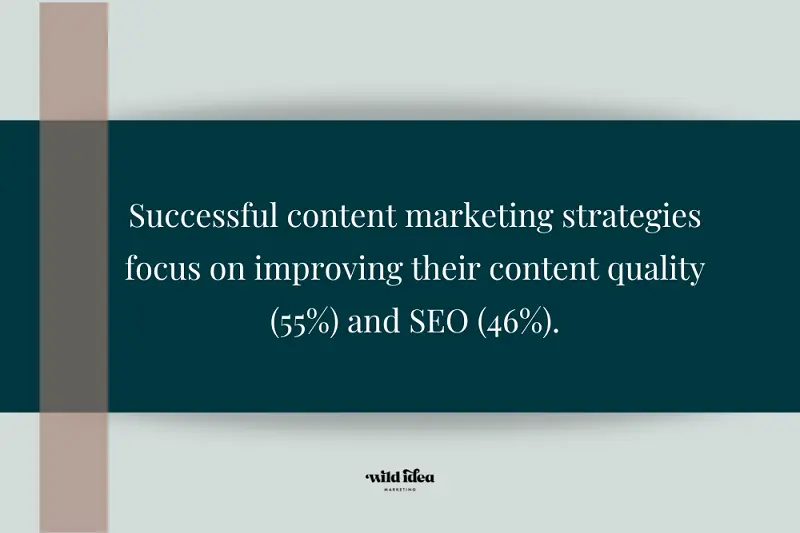 Read more: What Are Content Clusters And Why They Matter To SEO
4. SERP Analysis
Successful content marketing strategies focus on improving their content quality (55%) and SEO (46%). You can find clues from the SERP. For example, judge the search intent for the topic, which should influence how you treat that topic.
You'll need to ensure your article matches the intent, especially if there's a clear dominance. Are the results mostly blog posts, tutorials, listicles, etc.? Are there product packs or comparison blogs?
Notice if you see many videos in the results. Is there an image pack? Are there infographics, cheat sheets, or templates? Note your findings against the topics in the table in the content strategy template. Later you will need to decide which assets you should produce for each topic.
However, remember that you'll want your content to stand out from the crowd simultaneously. Google prefers uniqueness. So, you should find your brand differentiators and keep them at the forefront while deciding the content format and assets to accompany your content pieces. You will find a few examples in the template document.
Once your analysis is complete, the content you create will have unmatchable quality.
5. Pick Distribution Channels
Most people distribute their content through blogs, social media, or email. Some people also use Quora and Reddit to get more eyes on their content.
Every distribution channel has pros and cons, but you must factor in your ideal customer's preferences to make your decision.
Where do they hang out, and what are their favorite means to get information? Are they social butterflies or email hounds? The choice of the best distribution channels depends on these questions.
For the content pieces that get a positive response on organic channels, advertising them to boost their visibility can be an excellent strategy.

Also Read: Content Marketing Strategy For Proptech
Next Steps: Execution Of Content Strategy
Congratulations! Now that you have a content strategy, you're ready to create SERP-winning content. To help you along, here are some of the tips for the smooth execution of your content strategy.
Create a content calendar: Ideally, you should create one for at least one quarter (3 months) in advance. It will help you stay organized and on schedule. We like to use Monday.com to keep this organized!
Run a content audit: Find winning content and update it when needed to ensure it stays fresh and continues dominating the SERPs. For losing content pieces, consider updating them or discarding them. Make sure your website has no substandard content.
Hire expert writers: They should be experts in SEO writing and the niche. If you cannot find an industry writer, you can provide them access to niche experts to bridge any knowledge gap. Expert opinions can also make your content stand out.
Repurpose your content: This helps your content do double-duty and can help your marketing budget go further. For example, you can convert a YouTube video into a blog post and a blog post into a podcast or series of social media posts.
Our content strategy template is the fruit of our relentless research and testing. We've discovered that our step-wise approach allows us to create a content strategy that covers all bases. When you take your time and research according to the suggestions in the template, you should be well on your way to creating a winning content strategy.
Here are the download links once again.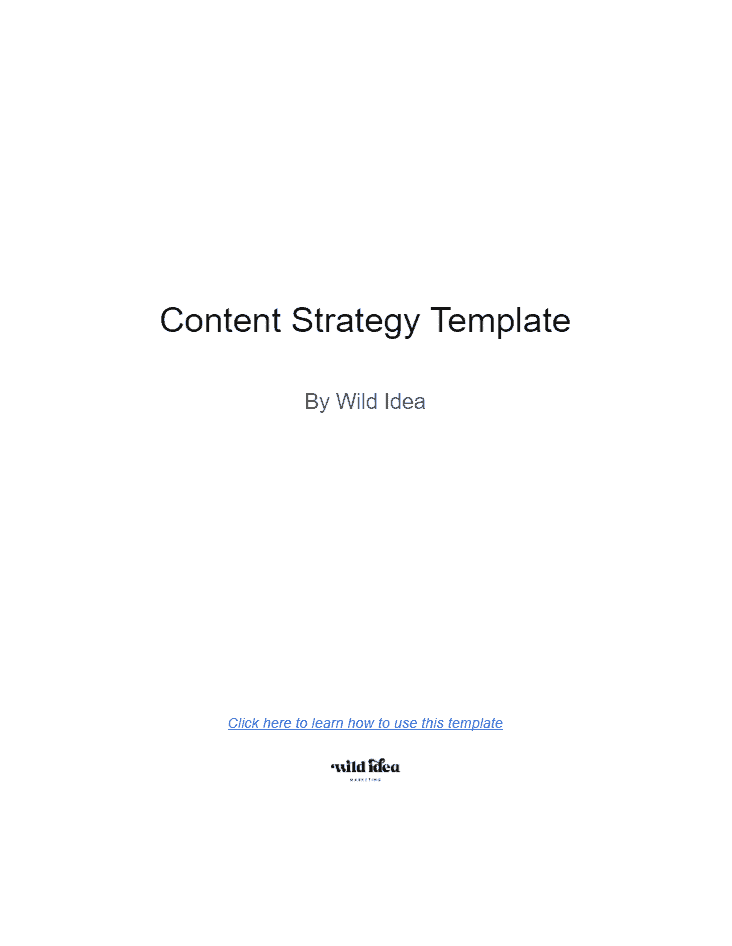 Author
Owner + Content Marketing Consultant
Wild Idea
Karli is content marketing consultant behind Wild Idea, a content marketing and SEO collective focused on driving big results. With over 12 years in the marketing industry, she's worked with brands large and small across many industries to grow organic traffic and reach new audiences. She writes on everything from marketing, social, and SEO to travel and real estate. On the weekends, she loves to explore new places, enjoy the outdoors and have a glass or two of vino!
Content Strategy Template: Free And Ready-To-Use