A content strategy framework is a skeleton around which you can build your content to reach your business goals. It includes why you create your content, how you create it and for whom, and how it fits into your overall sales and marketing strategy.
Google has evolved to a point where random content creation is nearly useless. No matter how much time, energy, and resources you spend on creating it, it is unlikely to help you win over your audience and achieve your ultimate goals.
Blog enough, post regularly, share, share‒rinse and repeat‒and you'll begin to rank and convert eventually; this doesn't necessarily work anymore!
So, what DOES work? Why do some content strategies start bearing fruit quickly while others do not? The answer lies in a solid content strategy framework to complement your SEO efforts.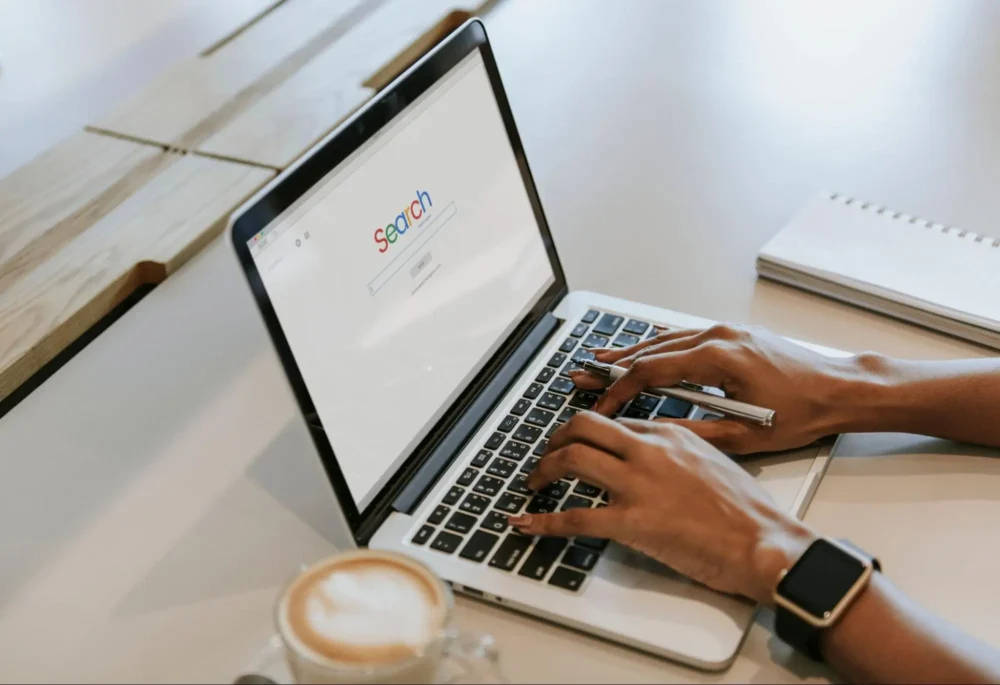 What Should An SEO Content Strategy Include?
At its core, an SEO content strategy involves creating high-quality content that can pull up the ranking of other web pages and drive organic traffic to your website. The challenge is that you can't create this sort of valuable content by just winging it. You need to have a well-crafted strategy to develop the topical authority necessary to rank in today's SERPs (search engine results pages).
Each business has (broadly) two types of readers that search online for them: people looking to get more information on a topic and people looking to buy. An SEO content strategy includes careful planning based on user intent and keyword research. The goal is to create content that ranks higher in the SERP consistently.
Blogs typically cater to the first type of people, and that's why they're built around keywords with informational intent. On the other hand, keywords concerning buyers have transactional intent.
Most searches have informational intent, and since transactional keywords can't rank for these, it can be difficult to get eyes on your product or service unless you take an informational approach.
Blogging, however, can rank for these informational keywords and therefore attract a large number of people to your website. These people enter the top of the sales funnel and can be nurtured into leads if you've carefully built your content strategy framework.
Besides traffic, your top-ranking blogs can also pull up the ranking of your business website along with all the money pages. However, topping the SERPs isn't an easy feat nowadays. Today Google not only looks for quality content, but it also values the clout of the publisher. Establishing topical authority in the niche market is a crucial goal for any SEO content strategy.
A content plan based on the pillar-cluster strategy allows you to cover each topic in ample detail. At the same time, you can target various long-tail keywords as you create cluster topics. In contrast, the supporting pillar can easily rank for the relevant short-tail keyword with the help of the collective link juice from cluster and sub-cluster articles.
Content Strategy Deliverables
A successful content strategy answers many vital questions, such as who your target audience is and how their needs translate to your goals. It also determines your unique sales proposition (USP) and how you can measure the success of your content. Thus, you can build a strong content strategy framework in three stages:
Research: Uncover audience interests and gaps within the content.
Strategy: Content model and formats to achieve goals.
Process: Roadmap including SOPs and tools for implementation.
Below are the expected deliverables of a successful SEO content strategy:
Content and Competitor Analysis
Keyword Research Report
Content Framework (Pillar/Cluster Strategy)
Detailed Content Outlines
Publishing Schedule
Internal Linking Framework
Distribution Suggestions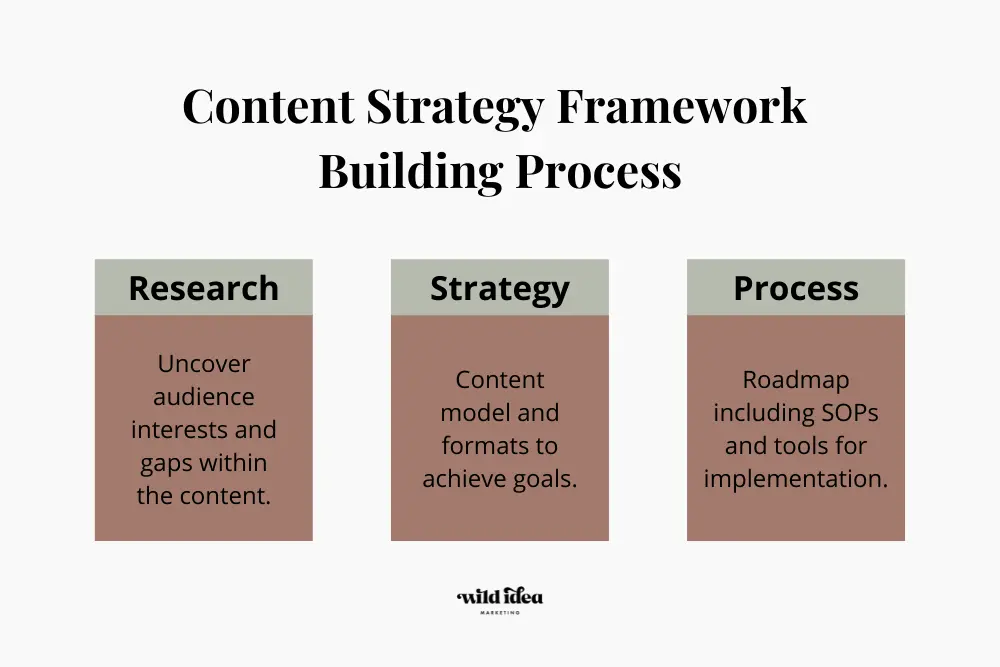 Also Read: What Is a Content Plan and How You Can Create One for Success
8 Steps to Building a Successful Content Strategy Framework
Building a solid content strategy framework is important to avoid the rampant content creation many businesses fall prey to (and lose out with). Much research and thought should go into building a content strategy structure that can support the goals of a business. It's a systemic process that can be divided into eight steps.
1. Content and Competitor Analysis
The first step in creating a successful content strategy framework is a detailed analysis of your current content versus your competitors' content. Thoroughly investigate your content, both published and in the production pipeline. You can divide all the content into three groups:
Content already ranking that requires no work.
Content in need of optimization to meet the quality standards.
Missing content for high-value keywords.
Once you take care of this, you can compare your content to your competitors' content to find missed opportunities. The goal is to find content gaps as well as optimization ideas to give your content a powerful boost.
You can use tools like Google Analytics, Ahrefs, SEMrush, etc., to find competitors based on their domain ranking, keywords, search volumes, and various other metrics. Once you identify your competitors, you can use the gap analysis tool to find topics your audience is most interested in but has not yet been covered by the competitors.
One thing to note: Even the best tools can often yield inaccurate results. It's always a good idea to comb through competitors' ranking keywords manually and to take a look at topics that may not be keyword-driven, but are still high value. This could include controversial topics, branded topics, low SV but high conversion topics, etc.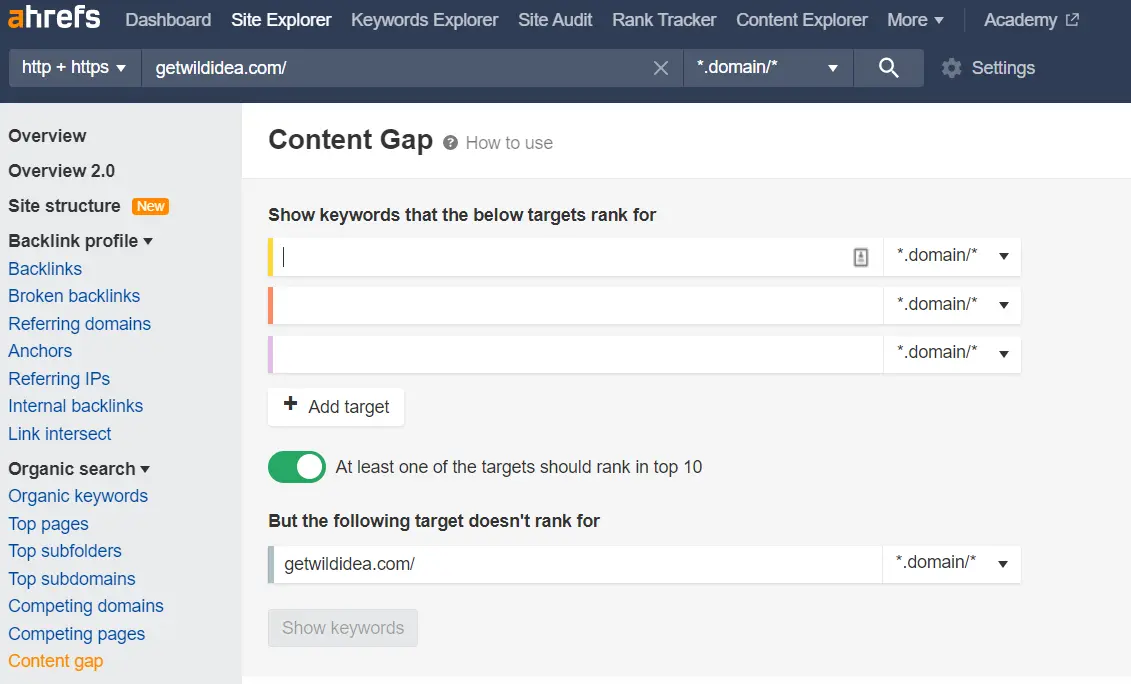 During the content analysis, also keep an eye on opportunities to repurpose content. You can use content from blogs to create social media posts or images. You can turn posts to video tutorials or listicles into checklists or cheatsheets and then use them as lead magnets.
2. Keyword Research
When doing keyword research, a lot goes into selecting the right keywords with the right difficulty level and search volume. This includes analyzing individual page rankings, backlinks, keyword search volume, off-page, and on-page SEO, and even highlighting technical SEO limitations (such as crawling and indexing issues) that may affect a blog's ranking potential.
While many people fuss about on-page SEO only, keep in mind that off-page SEO is just as important. One of the most important aspects of keyword research is identifying your customers' pain points, so you can target those pain points to create the exact content they need.
A good keyword research process also helps you find out where your content lies in the different stages of the content funnel.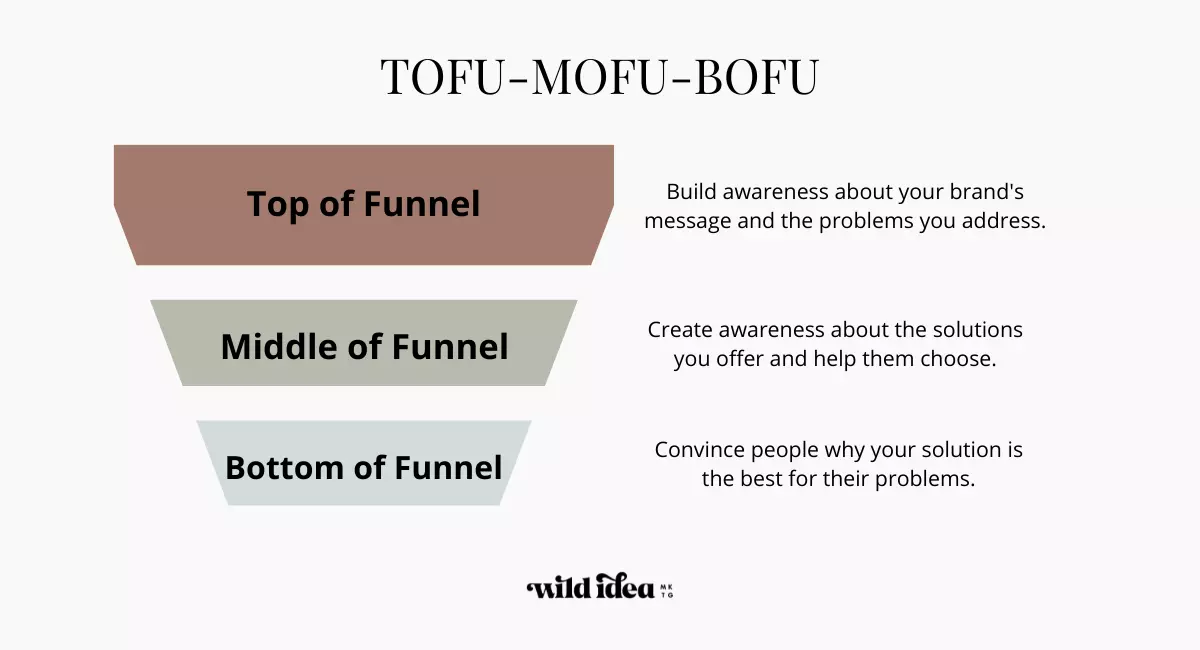 3. Pillar-Cluster Strategy
While there are many ways to organize content for a blog, we favor the pillar-cluster model. Although this model has many benefits, there are two that stand out: one that it helps you establish topical authority, and two, it makes content navigation simple for the users.
However, these two benefits have far-reaching implications for overall content marketing success.
With its cluster content, the pillar page allows users to explore a topic in great detail. The pillar post covers the width of the subject while avoiding tangents or digging in too deep. On the other hand, cluster articles cover their subtopics in detail. Thus, each subtopic has ample depth while keeping the blog short enough to avoid overwhelming the reader with information.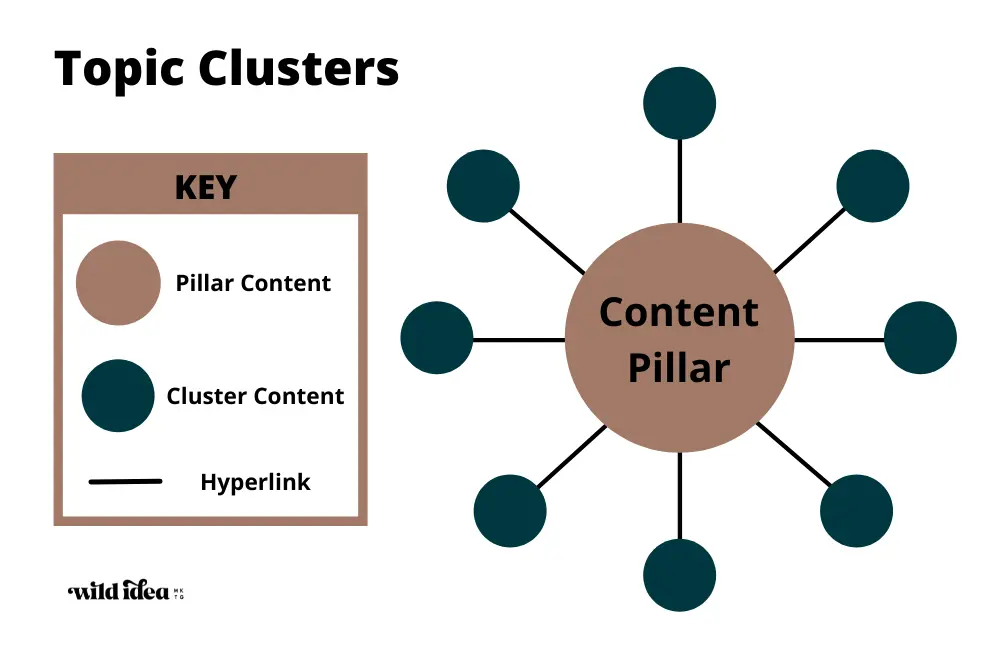 Instead of writing thousands of words and innumerable headings in one blog of 10K or more words, you can cover the subject in multiple articles, each targeting a specific longtail keyword with many secondary keywords. A cluster page's content is conventionally kept below 2000 words.
They support the pillar page and signal to Google that a website is covering the topic in-depth and is, therefore, an authority on the subject. This helps the valuable pillar page to rank. Another great perk? Ranking for tons of easier-to-attain long-tails alongside the more robust pillar keyword.
Also Read: SEO Pillar Posts: Using Content Pillars To Outrank Your Competitors
4. Detailed Content Outlines
Gone are the days when you could top the SERP by regurgitating and slightly tweaking the content that's already ranking. It used to be easy to scour the SERPs for high-ranking content, find where it lacked, and then develop a better piece of content to steal its place in the SERP.
This method isn't as effective on its own anymore. Since everyone is using it, there isn't much left to add to most topics without adding your own unique spin. Moreover, due to the excessive use of this technique, it's not unusual to find repetitive content ranking for the first 1 to 5 SERP positions and sometimes even more.
That's why Google has cut to the chase, and nowadays, we tend to see a mixed SERP with precedence given to uniqueness and authority.
Enter the Unique Solutions Method. It's a technique that includes using the best bits from the winning content in the SERP but personalized for one specific audience. For example, we use our client's unique perspectives, expert opinions, proprietary stats, and unique solutions to enhance the content and give it a unique spin. As a result, the content is unique and highly attuned to cater to our reader's needs and aspirations.
Using the Unique Solutions Method, you can create detailed content outlines for writers and editors. The content outline communicates the main idea for the blog and provides a complete structure for the article.
It has all the major headings and subheadings with a short description of the points to cover under each. The outline also includes suggestions for the writers to add examples, case studies, or statistics and may also include links to helpful resources. This is where you will include any quotes from the client, proprietary stats, survey findings, expert opinions, and other things the writers may not have access to otherwise.
Having a content framework in place ensures that the content successfully reflects a unified brand message to the audience, irrespective of the content creation team. It's one of the critical components of a successful content strategy.
Here's a sample template for creating outlines: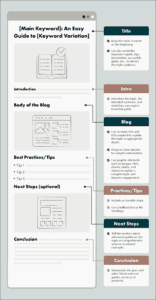 You can find different types of blog post templates here.
5. Publishing Schedule
A content strategy framework is incomplete without a publishing schedule. Publishing cadence is important! One must have a carefully planned editorial calendar to ensure the timely distribution of content.
You can use an excel sheet to create a custom calendar to share with your marketing team. For example, HubSpot uses Excel to handle its publishing schedule.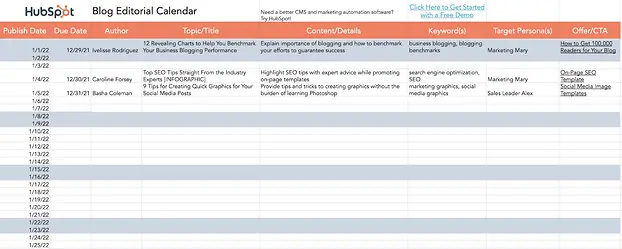 However, many companies use project management tools like Monday, ClickUp, Basecamp, etc. For example, Buffer uses Trello to manage its publishing schedule.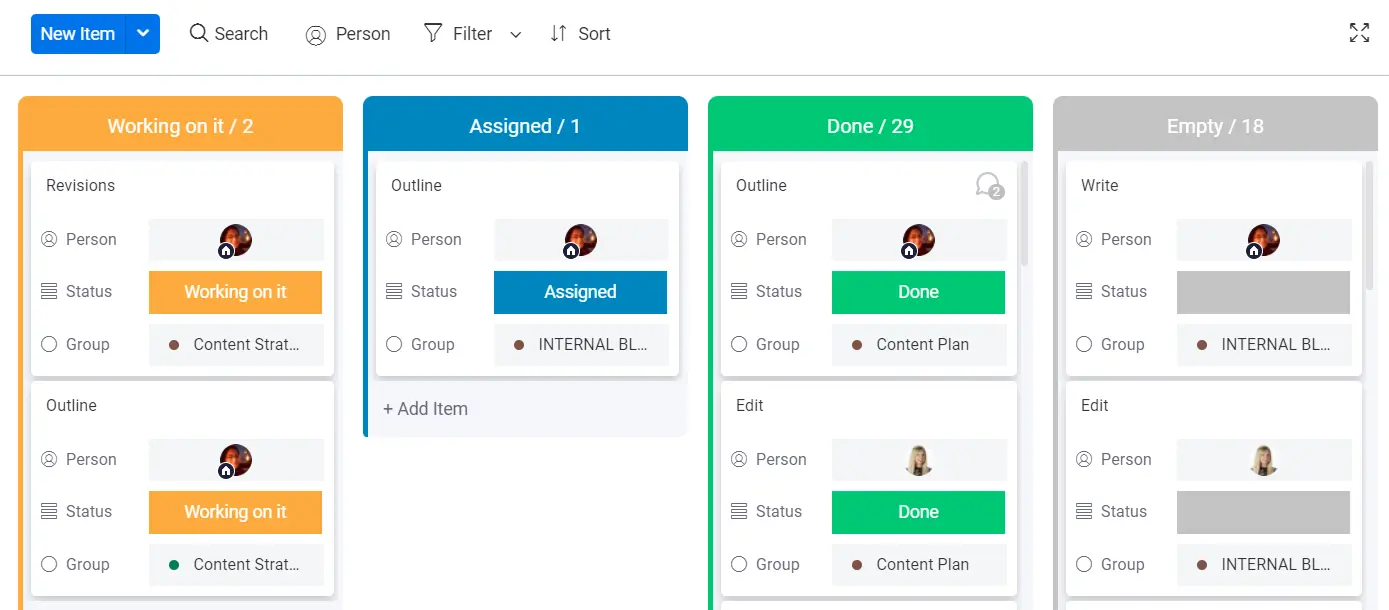 6. Create An Internal Linking Framework
Internal links are a crucial part of the pillar-cluster model. Even if you don't organize your content into clusters, internal links are one of the top two factors considered by Google's page ranking algorithms.
No matter what strategy you're using, you need to have a strong internal linking framework to ensure that your content ranks on Google and performs well. The best way to set up an internal linking framework is to follow a proper sequence:
Imagine that your website is a pyramid and your homepage is at the top of it, followed by your landing pages and blog.
Pillar pages are toward the top of the pyramid. Each pillar page links to all of its cluster articles. However, avoid linking the cluster article of one pillar to the pillar page of another cluster.
Link cluster articles among themselves. Clusters of different pillars can be linked to each other if they're relevant and helpful.
If your content has another tier of secondary clusters, follow the linking pattern between the pillar pages and cluster articles.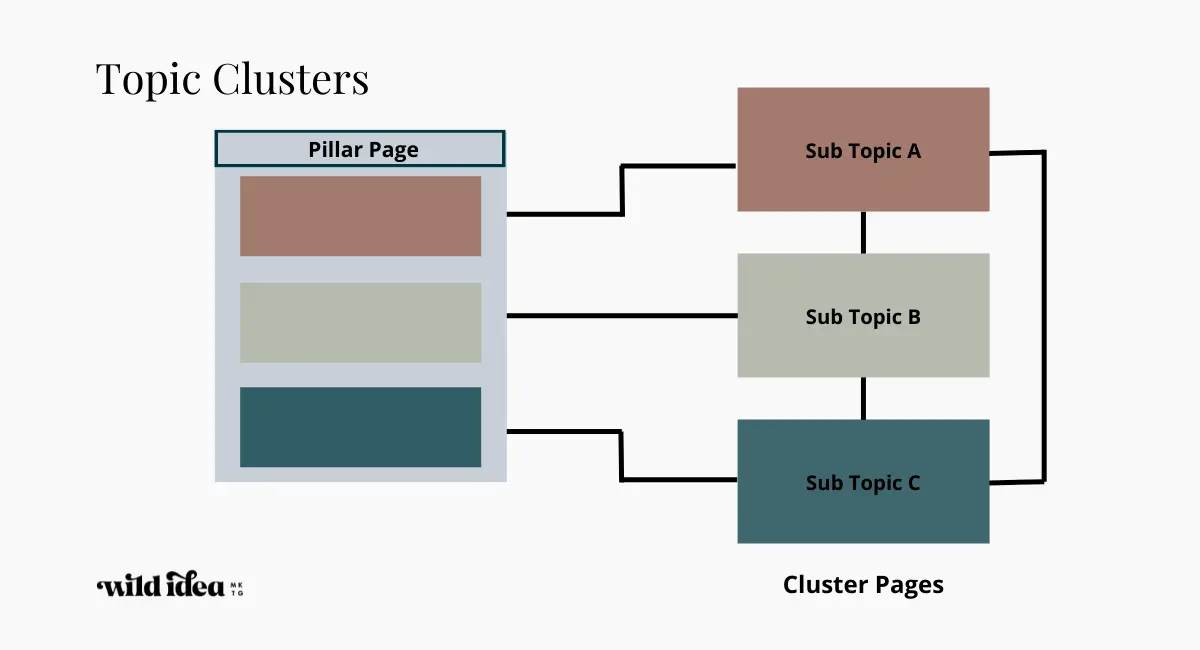 Also Read: The 4 Key Components of a Successful Content Strategy
7. Determine Distribution Channels
Once published, it's time for you to distribute your content, so determining the most effective distribution channels for your content is a vital part of the content strategy framework. Among all the ways you can distribute your content, guest posting and cold outreach stand out. They're a great way to build backlinks but also establish your authority as an expert.
Distribution for the purpose of link building plays a very significant role in improving your SEO performance. It not only brings you more traffic from different sources but also increases your backlinks from the anchor text you add to your guest posts. Here's an example–Notice the links in the author bio on the right.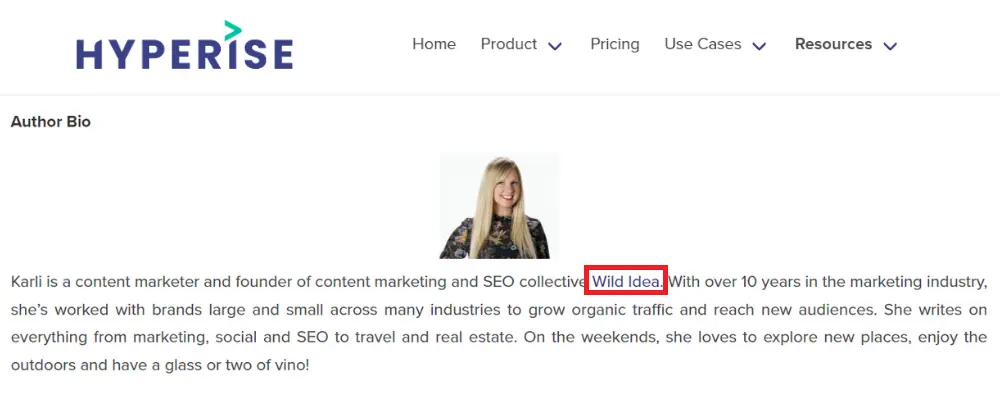 As you get more backlinks to your website, your domain's ranking and visibility also get a boost. More traffic means more leads, sales, and an increase in revenue.
You can also try reverse outreach which is the complete opposite of cold outreach. Instead of reaching out to people, you can make them come to you by choosing content topics and formats to which people are more likely to share and link. Statistics, infographics, cheat sheets, and survey posts are some of the blog types that get more links and shares organically.
Another great way to get eyes on your content is to distribute it in places your audience hangs out— on social, in niche groups, in Slack groups, on Reddit threads and in QA forums, etc. Other distribution channels include video marketing, newsletters, email marketing, influencer marketing, press releases, and podcasts.
8. Performance Tracking And Measurement
Your content strategy framework is incomplete if it doesn't include performance tracking. Think about it—what's the point of a content strategy with no key performance indices (KPIs) to measure its effectiveness? Performance tracking may be the last step on a content strategy, but it's directly linked to your content goals, i.e., the very reason for building a content strategy.
In other words, as soon as you decide why you're creating a content strategy, you need to determine its KPIs and how you'll measure them.
You can use different tools like Google Analytics, Ahrefs, SEMrush, etc., to track and analyze the various performance indices and infer meanings from their fluctuations. Some of the KPIs could be domain and page rankings, number and quality of backlinks, organic traffic, leads, etc.


Case Study
At Wild Idea, we use the exact process described above to create a content strategy framework that helps our clients reach their goals. We'll break down one example for you here.
In less than two years, our client, a large, multi-city real estate brokerage, saw a 1200% increase in organic growth with a traffic value of $56,000. The number of users increased from 5,500 to 70,000 in just 1.5 years.
When we started with them, the company's growth was stagnant, and its online visibility was not where it wanted it to be. They were not getting the leads they needed because powerhouse content creators like Realtor.com and Zillow often beat them out in the SERP.
The Problem:
The company was blogging, but the articles were not following a content strategy framework. The content topics were randomly chosen and focused on local happenings and general decor rather than answering questions prospective buyers and sellers would have.
The company was not following any content strategy.
The blogs were centered around general lifestyle topics.
Articles were not optimized for keywords, intent, etc.
The Solution: We researched customer questions and analyzed competitor content before creating content pillars focused on location-specific keywords and general real estate questions. Because of our carefully created content framework, we were able to attract traffic that falls within their target audience. At the same time, we built links and obtained news coverage, pushing up the site's authority and allowing the client to rank for more competitive keywords over time.
The Result: We currently have hundreds of keywords on page one and over 30K keywords organically ranking overall. The company's content is ranking #1 for "living in texas" (19K), best places to live in texas (17K), and "how long does it take to build a house" (12K), among many others.

With these easy-to-follow steps, we hope you can understand the importance of each stage of creating a content strategy framework. You can create a content strategy framework for your business on your own or consult us to do the heavy lifting for you. Either way, we hope this article allows you to build an effective content strategy.
Author
Owner + Content Marketing Consultant
Wild Idea
Karli is content marketing consultant behind Wild Idea, a content marketing and SEO collective focused on driving big results. With over 12 years in the marketing industry, she's worked with brands large and small across many industries to grow organic traffic and reach new audiences. She writes on everything from marketing, social, and SEO to travel and real estate. On the weekends, she loves to explore new places, enjoy the outdoors and have a glass or two of vino!
Content Strategy Framework: 8 Steps to Creating Impactful Content