The Short Answer: Yes, blogging is definitely worth it, and that's true for 2023 as well, that is… if you're willing to spend the time and resources required to create a winning blog.
There are tons of ways to see revenue from a blog. You can earn from your blog directly by monetizing it, or you can use it as a lead source for your products and services. According to Hubspot, 82 percent of marketers got a positive ROI from their blogs in 2021.
Creating a blog takes time and effort for sure, but the result can be extremely rewarding if you follow a marketing strategy aligned with the goals you hope to achieve.
So, is blogging right for you? Let's discuss.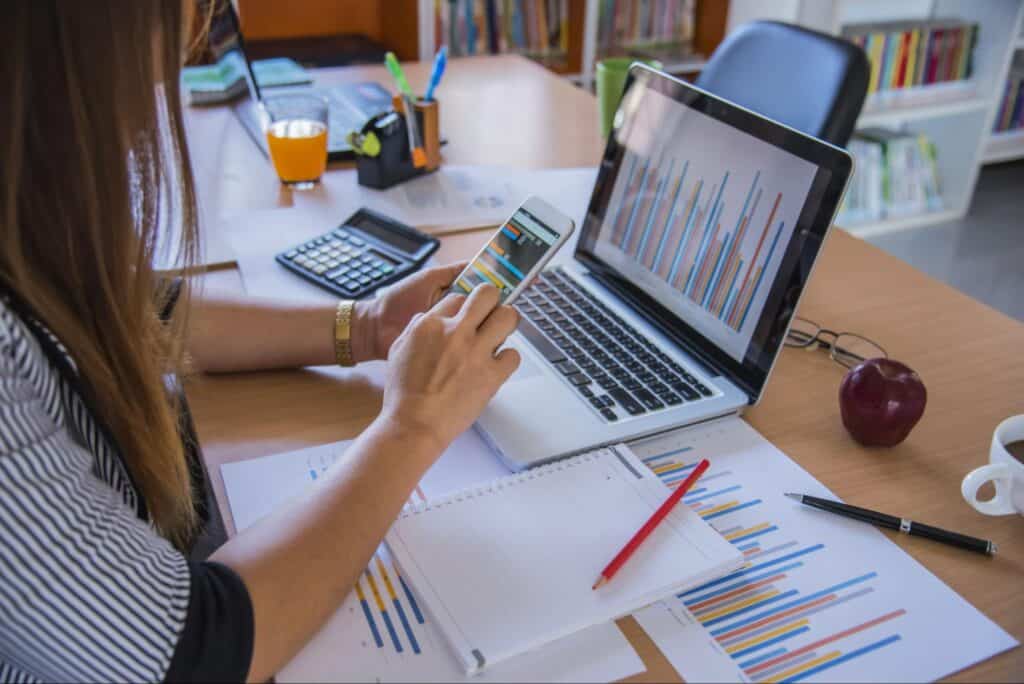 Is Doing a Blog Worth for Your Business?
Pretty much every online business will benefit from an SEO-optimized website, but a blog that ranks on Google can sometimes be thought of as a luxury rather than a necessity.​​
Whether having a blog or a resource hub makes sense for your business or not depends mainly on your goals and the resources you can allocate for the blog. You might benefit from content marketing through blogging if…​
You have the resources like time or the money to create a blog built to rank. There's no point in slapping a few words up every few months.
​Your audience is primarily online. If your people find you via the internet, skipping out on content marketing via your blog means you're likely leaving money on the table.​ This is especially true if you have something they can purchase or subscribe to through your website, like a product, subscription or piece of software.
People often have questions before they start working with you. Blogs can be an excellent way to address those questions and even capture leads. ​
You want to establish yourself as an authority in your field. Imagine every time a potential customer searches about a subject and your blog post pops up, talk about authority!​
On the other hand, you may skip a blog if…​
You have an amazing following on social media and don't need to diversify lead sources.
Your budget is super limited, and you need to allocate funds to more direct lead generation initiatives.​
Your audience isn't online; think a restaurant or mom-and-pop storefront. ​
You aren't super interested in building a brand and only have the time/means to focus on 1-on-1 relationships.​
You don't plan on having a blog strategy and just want to write about your thoughts. This *can* work for you, but only if you're already an expert or influencer in your field. ​
The takeaway here is…
​Content marketing (when it comes to SEO website content) is only effective if there is a targeted strategy behind it.
The blog needs to be built to rank, and there should be systems in place to either monetize the traffic or funnel it to your end goal. It can be an excellent way to grow your brand presence, develop authority, and bring in business when done correctly!
Blogging For Fun Vs. Blogging For Business
At this point, it's worth noting that blogging for business is quite different from running a blog as a hobby. If it's just a hobby, you do it for fun and are not too concerned about making an income out of it. You do it for personal satisfaction and share your thoughts and journey with the world.
However, blogging for business is another beast. Each blog post has a purpose with the ultimate goal of generating revenue for your company. This doesn't mean each blog or article tries to shove products or services down the readers' throats. Instead, a business blog follows a specific strategy aimed at fulfilling a business goal. Each blog post has a crucial role in that strategy and plays its part to fulfill the business objective.
So, as we discuss further why blogging is worth the effort and the ways you can kickstart a successful blog, we'll assume that you're interested in blogging for business instead of for fun.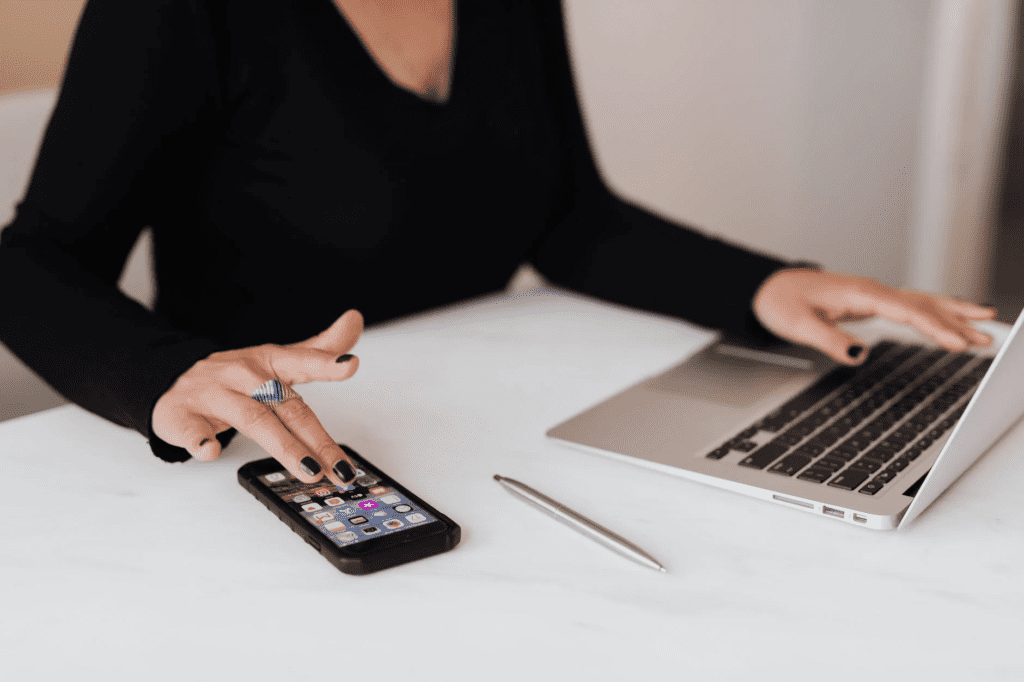 Photo by Karolina Grabowska from Pexels
Why Blogging is Worth the Effort
Blogging is enjoyable for sure, but it's profitable only if it's done the right way. It requires considerable thought and consistent effort. Here are a few main reasons why people, businesses, and service providers can benefit from having blogs and resource hubs on their websites.
1. For Business Promotion
Nearly 27% of Americans use ad blockers because they're tired of being sold constantly. However, blogging can be an efficient alternative for both short-term and long-term exposure without breaking the bank.
First off, you can use blog articles as content for your social posts or to help you start a conversation. It helps that social sharing is free, and on top of it, it's a quick way to get your message across to your target audience.
Any well-done informational blog will also rank for SEO keywords that your ideal customers are searching for, and answer their questions in a valuable and authoritative way. This builds trust, awareness, and authority for your brand so much better than ads ever could.
A good trick? Opinionated topics or an oppositional stance to a popular query can create quite a buzz and bring attention to your blog and business. Promote your most buzz-worthy blogs on social media, and you can increase your ROI many-fold.
Another perk, of course, is the long-term steady traffic that a well-optimized blog post can bring in. To do so, make sure to:
Choose your topics to match your target audience and business goals.
Create the most informational blog you can.
Add CTAs (calls to action) to move the traffic along the marketing funnel.
For example, Ahrefs has a huge SEO resource hub with organic traffic of above 1.3 million. Moreover, many of their blog posts and tutorials showcase their tools, increasing the possibility of sales.

2. It's An Excellent Source of Lead Generation
A study by Hubspot found a direct correlation between the number of indexed pages in Google and the leads that were generated. Customers with hundreds of indexed pages saw 2X more leads than others.
Blogging is the fastest way to get many pages ranking in the SERP (search engine result page). Once your super-helpful content is ranking, you can slap a lead magnet or email capture form on it and start capturing leads while you sleep!​
Adding effective CTAs is crucial for this automatic lead generation to work efficiently. The CTAs need to be relevant, convincing and form a natural progression for the reader from the blog they've just read to the next step.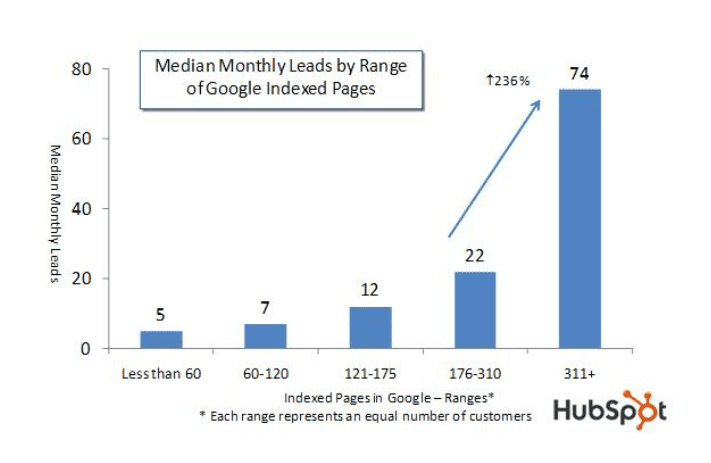 3. Blogs Drive Organic Traffic
There are plenty of ways to drive traffic to your website besides paying for ads (which are not only expensive but also generate short-term traffic). One of these ways is to attract organic traffic by ranking in the SERPS. Blogging is one of the most effective ways to drive organic traffic to your website consistently.
According to a study conducted by Growth Badger, organic traffic is the #1 traffic source for high-income bloggers. However, businesses can use this concept the same way to promote their products or services and earn brand authority.
The key to driving organic traffic to your blog is creating quality content and optimizing it for ranking.
Content must be unique, actionable, and high-quality.
Your content should be organized based on a solid content strategy (we like the topic cluster method).
The blogs should target relevant keywords with high ranking potential.
They must have a compelling title, preferably with your primary keyword in it.
The blog should be optimized for search intent and Google page experience.
The creator should make sure to link internally and externally to credible sites.
Your content should be unique and must have a good readability score.
4. Establishes Your Brand As Authoritative
Whether you're running a business or looking for a freelance gig for the services you offer, blogging can help you establish yourself as an expert. Your authority on your chosen subject will naturally reflect in your blogs, and gradually people will trust you as a credible source of information in your niche.
As people begin to perceive you as an expert, they will trust your services, products, and recommendations. By establishing yourself (or your brand) as an influencer in your market, your blog can open up many revenue streams. Most importantly, your services or products will be in high demand, but bloggers can also enjoy blog monetization, affiliate marketing sales, sponsored posts, guest appearances, and much more.
For example, The Sleep Doctor, Dr. Micheal Breus, has an impressive array of blogs and resources on his website. Moreover, he has also introduced many products to assist quality sleep and sleep courses to help people control insomnia and sleep better.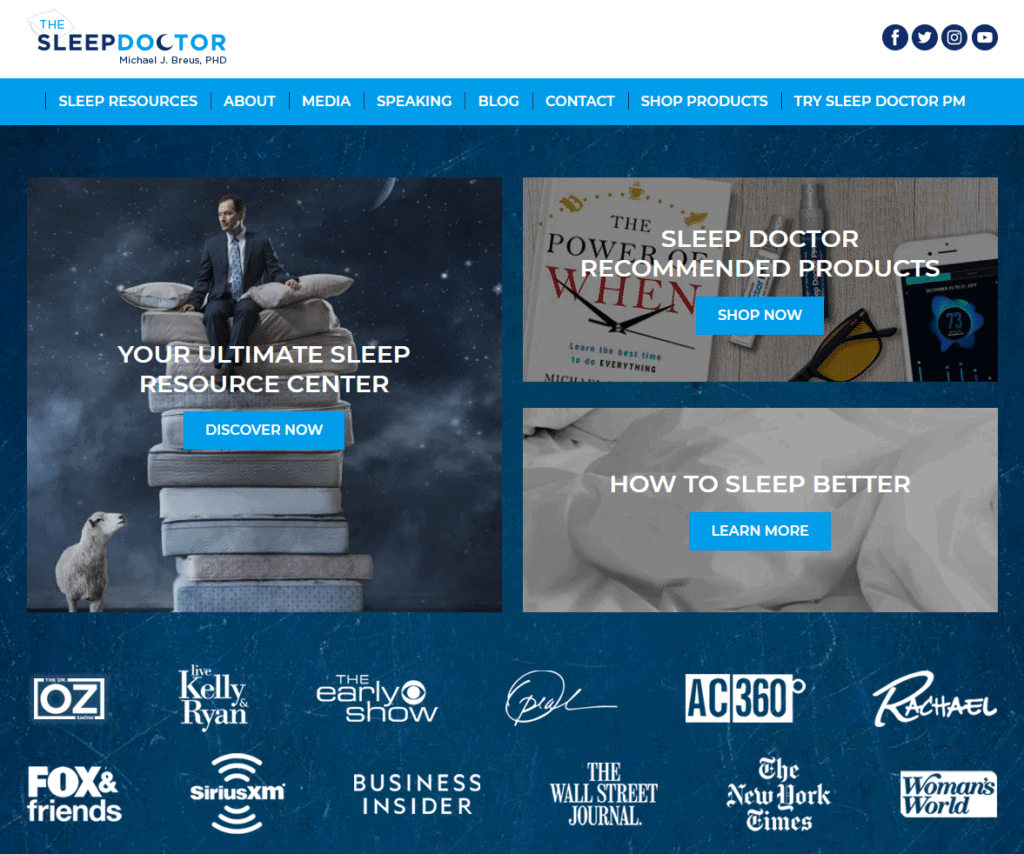 5. Blogging Can Make A Difference
For businesses that want to make a difference, blogging is an excellent mouthpiece. It can be an incredible way to positively influence other people and get them to rally for your cause.
From case studies to goals and achievements, people can become invested in your business if you can show them that you're committed. You can spread your message far and wide, keep your audience engaged, and promote credibility and transparency. In this way, blogging has a huge potential for raising awareness, funding, and support from community leaders.
Patagonia is a well-known outdoor clothing and gear ecommerce website with a focus on sustainability and an active lifestyle. They maintain an active blog where they share powerful experiences and inspirational stories worth sharing. The blog not only upholds Patagonia's image as an ethical and energetic brand but also brings in 16.4K in organic traffic and ranks for 25.8K organic keywords.

6. For Building a Community Around Your Brand
Whatever your niche is, there are people out there interested in it. When you blog about it consistently, you get a wonderful opportunity to draw these like-minded people not only to your blog but to each other as well. Your blog is one of the best ways to connect with your audience and rally them around your cause.
One way to build a community around your blog is to find and join communities where your target audience hangs out. Online communities are often happy to welcome you into their circle and support you in your endeavors. Become an active member of these communities and participate in their events and meetups.
Gradually you can make your own social media groups and portals as a hangout spot for your community. Use blogs to keep folks engaged in online challenges, by announcing giveaways, and involving them in key decisions about your products and services. Even brainstorming new blog ideas can be a fun and productive way to engage with them.
For example, Unsplash has a very active community of photographers, and they meet regularly, organize photography walks, and even distribute awards among their most impactful contributors.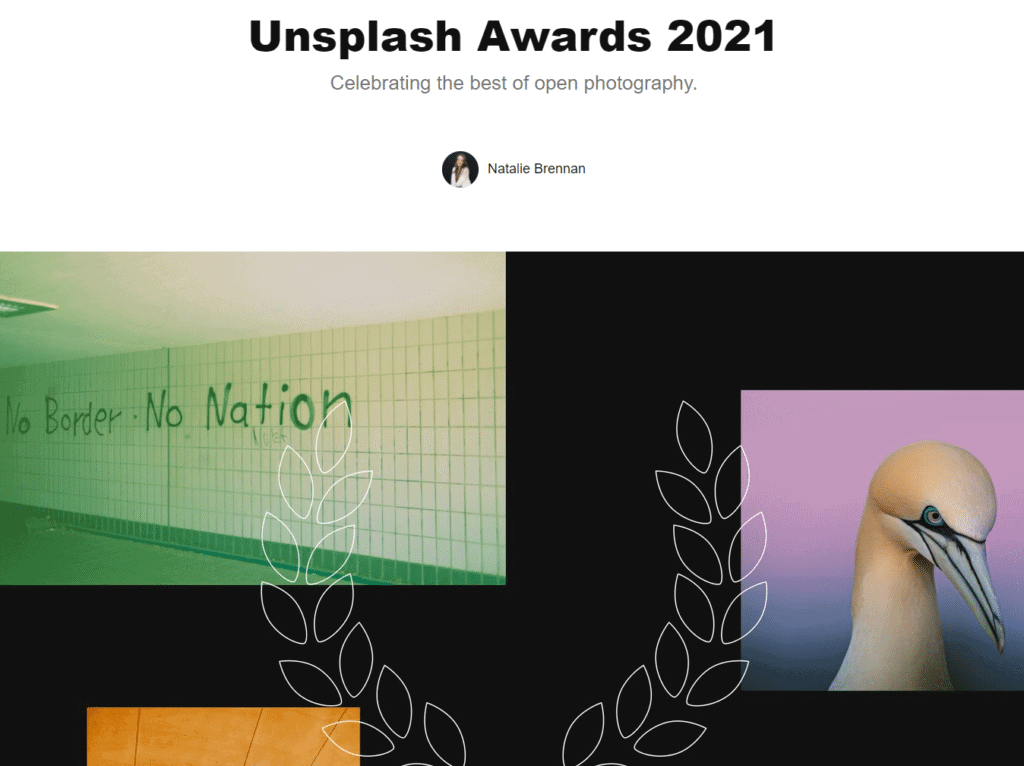 7. To Generate A Source of Passive Income
Blogging is like a dream job for many unsatisfied with the 9-5 world. Most want to start a blog to earn a steady passive income that may, one day, be enough to replace their tedious job.
The biggest perk of creating and maintaining a profitable blog is that you can work whenever you want and from anywhere in the world. There are many success stories about bloggers who started their blogs as a hobby or a way to make some extra money but ended up building business empires with profitable blogs.
HuffPost is one such success story. It started as a small blog, but today its estimated annual revenue is $250 million per year, and its owner, Ariana Huffington, is considered one of the highest-paid bloggers in the world (2021).
However, blogging requires grit and a well-conceived marketing strategy before you can monetize your blog and earn from it. Some of the ways you can earn from your blog are through advertising, affiliate marketing, providing digital services, or selling digital products.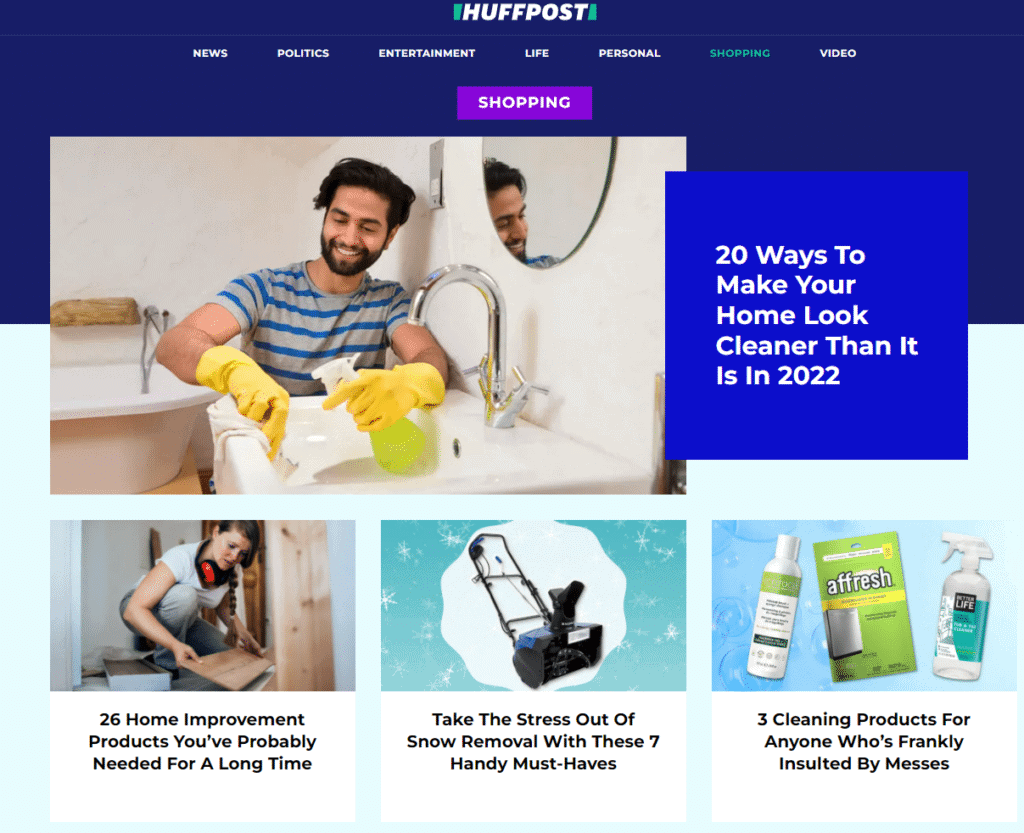 8. For Becoming a Thought Leader
Bloggers with a strong message and exceptional writing skills may find their way to becoming renowned thought leaders in their industry. Blogging becomes your platform, and the number of subscribers/followers becomes your credibility.
There are tons of bloggers who have paved their way to popularity just by blogging. Influential bloggers become industry leaders, sought after and respected by those in their niche.
For example, Adam Grant is a remarkable thought leader and author of many bestselling books. According to Grant, "the most meaningful way to succeed is to help others succeed." He advocates this message through blogging, podcasts, books, and public speaking. Today Grant is considered one of the top 10 management thinkers and his career personifies his belief that personal altruism leads to professional success.

10. Aids In Networking With Industry Peers
High-quality blog posts can get noticed by the experts in your niche and draw them to you. Once you're confident they're familiar with you, you can use your blogs as a reference or an excuse to connect with other industry peers.
Even if they aren't familiar with you when you contact them, you will have enough proof of your expertise in the form of your blog and readership to coax them into taking a second look.
Following are a few ways you can use blogging to connect with other experts in your industry:
Promote your blogs on social media like Twitter, Instagram, and Facebook to increase your chances of getting viewed by the industry experts.
Get your blog ranking for a competitive, high search volume industry keyword.
Get yourself noticed. Comment on your favorite blogger's posts but make sure your comment is well-formed and thoughtful.
Send a cold introductory email once you've interacted with them on social media or they've acknowledged your presence, such as liking or commenting on your comment or a post. Ask to collaborate in some way like a guest post, roundup post or collaborative project!
Here's the sample of an outreach email for guest posting.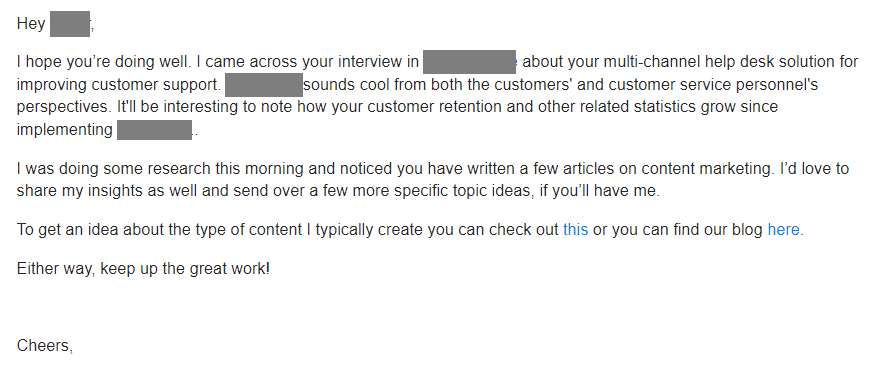 How to Start a Blog in 6 Steps
Remember that there's no one-size-fits-all when it comes to blogging. Each industry is different, and so is its readership. You'll want to choose a goal for your blog — is it traffic? Sales? Brand awareness? Lead generation? Whatever the reason, some fundamental steps will remain the same.
Step 1. Pick a Niche, Industry, or Focus
If you're blogging for business, this step will be easy. You'll want to blog that solves problems your customers are facing. If you're hoping to monetize your blog itself, it is of vital importance to pick a winning niche. How do you do that?
Typically, the best niche for you lies at the intersection of three things:
Niches of your interest.
Niches you're expert at.
Earning potential of the niches.
Moreover, since blogging is a long game, it's crucial to consider market trends and whether your niche idea will still be relevant, say 10 years from now, or whether your selected niche will be able to evolve with changing trends over the years.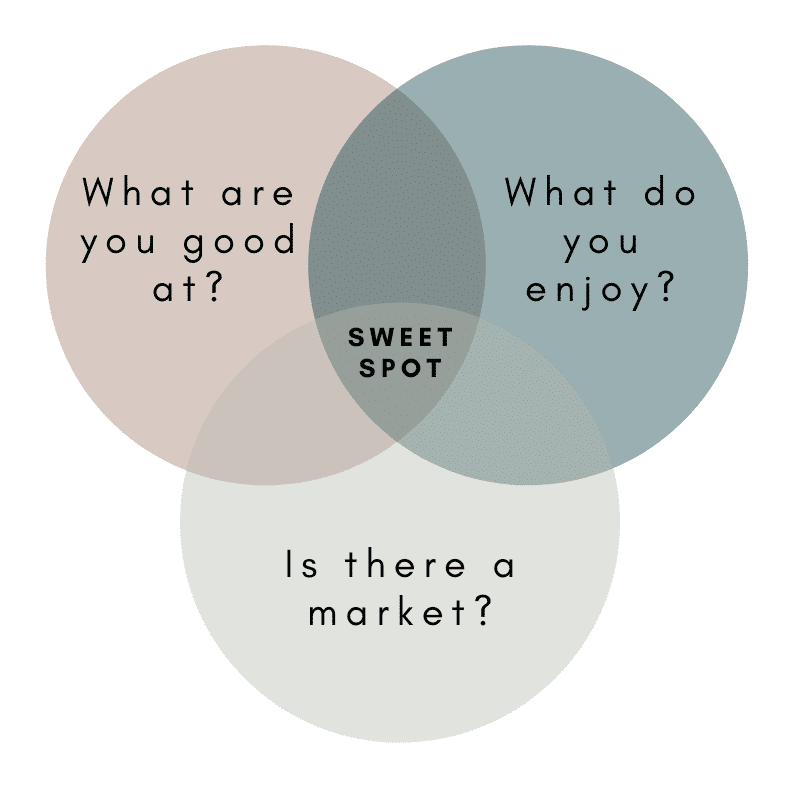 Here are some of the niches expected to be a hit in 2023:
Cryptocurrency
Metaverse
Non-Fungible Token (NFTs)
Vintage and Preloved Fashion
Sleep and Self-care
Digital Marketing
Ecotourism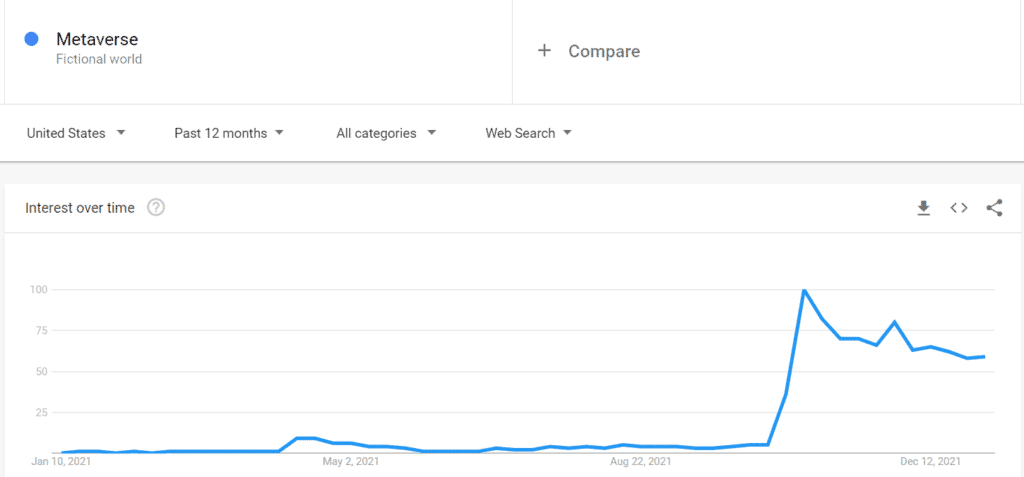 Step 2. Understand Your Audience
Understanding your audience is crucial for the success of your blog. It will guide you about what to write about, how to present the information, and where to promote it. Knowing your audience will help inform what sort of problems you can solve with your content and what keywords will be the most valuable.
There are multiple ways to understand who your people are and what they want. First and foremost, create buyers' persona for your ideal customers so that you're clear about their challenges, needs, and desires.
Another way is to analyze competitors' content and notice the topics in demand. You can also engage with your audience directly on Facebook, Twitter, Instagram, or wherever they hang out most often. Google Trends is a free tool to learn about the trends for different topics within a niche, informing your content strategy.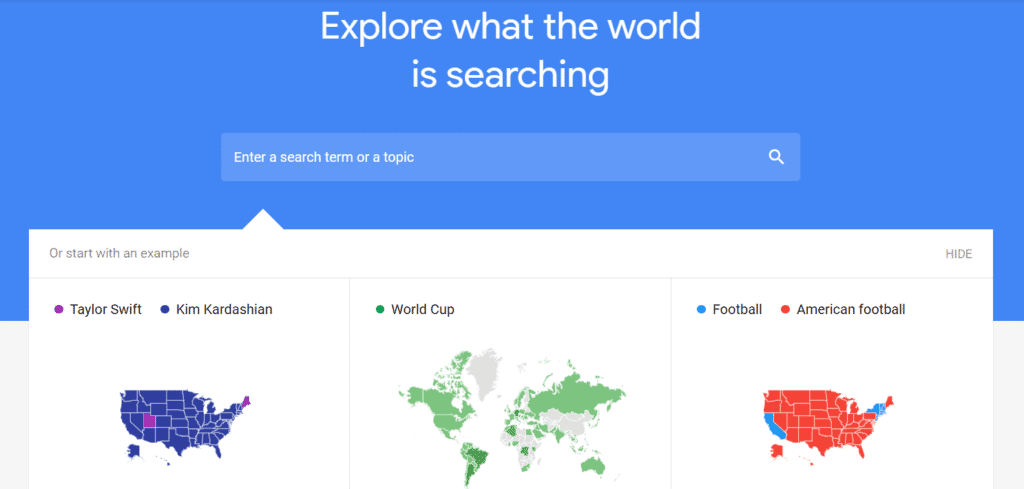 Step 3. Create a Content Strategy
A solid content strategy dictates the topics to write and how they will be organized and promoted. Most of your blogs should be based on keywords to rank in the SERP and bring you traffic. What good would it do if you are writing a blog but no one is searching for it?
They should be organized in a way that positions your site as having deep topical authority. That means covering subjects in depth using topic clusters.
Another benefit of having a content strategy in place is that sometimes you can anticipate topics that may not be hot yet but may solve a significant problem for your community of loyal readership.
Similarly, some topics may be written for a specific goal, such as building links or getting news coverage, and may not have to align with a lucrative keyword.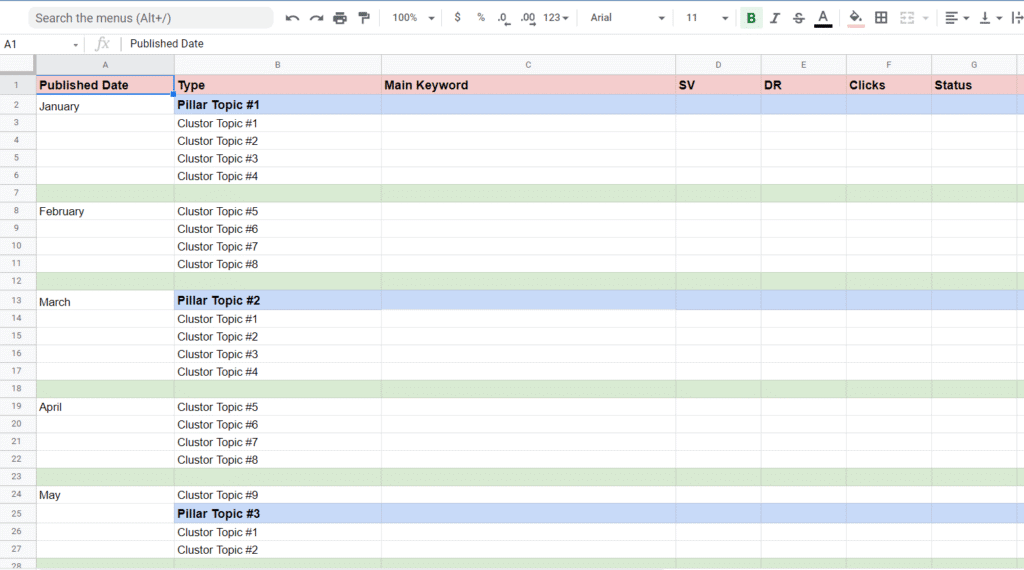 Step 4. Create a Content Calendar
Once you have a strategy in place and the keyword research done, you should have a content calendar to get your content rolling out like a well-oiled machine. An editorial calendar keeps everything together and helps you keep track of content as it passes through different phases of completion.
The content calendar holds a lot of information such as:
Deadlines for writing and editing blog posts.
When to post a blog?
How many blogs to post in one month?
Is there a time-sensitive blog that must be published before a specific date?
The status of a blog post at any given time.
You can use content management tools like Monday or Basecamp to create your editorial calendar and share it with your team.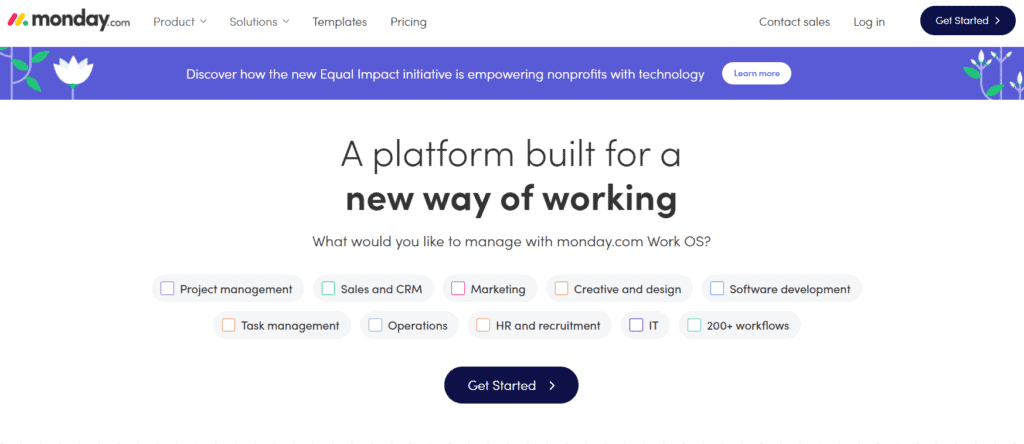 Step 5. Create a Blog
Now that your content creation is on full throttle, it's time to set up your blog. If it's a new website, you'll need to register your domain and set up your web hosting. Then you can install WordPress as an easy and highly customizable blogging platform. You can install various free and paid plugins to enhance the functionality of your website and monetize it.
If you already have a business website, your blog will most probably reside at the page domain.com/blog. It's best to design a static blog page for your business so you can control the content you want your readers to view first as soon as they land there.
Here are some SEO best practices for setting up the new blog for success right from the first day:
Keep the URL structure short and easy to read and remember.
Make sure the blogs load quickly as loading speed is one of the most crucial SEO factors.
Make sure the titles are click-worthy and relevant.
Keep the text size above 16px and ensure there is plenty of white space in between paragraphs.
Add visuals to break the monotony and make sure to add alt text to each image to assert its relevance.
Use keywords naturally without disrupting the user experience.
Add CTAs wherever they naturally fit. You can add them as buttons, hyperlinks, or widgets, etc.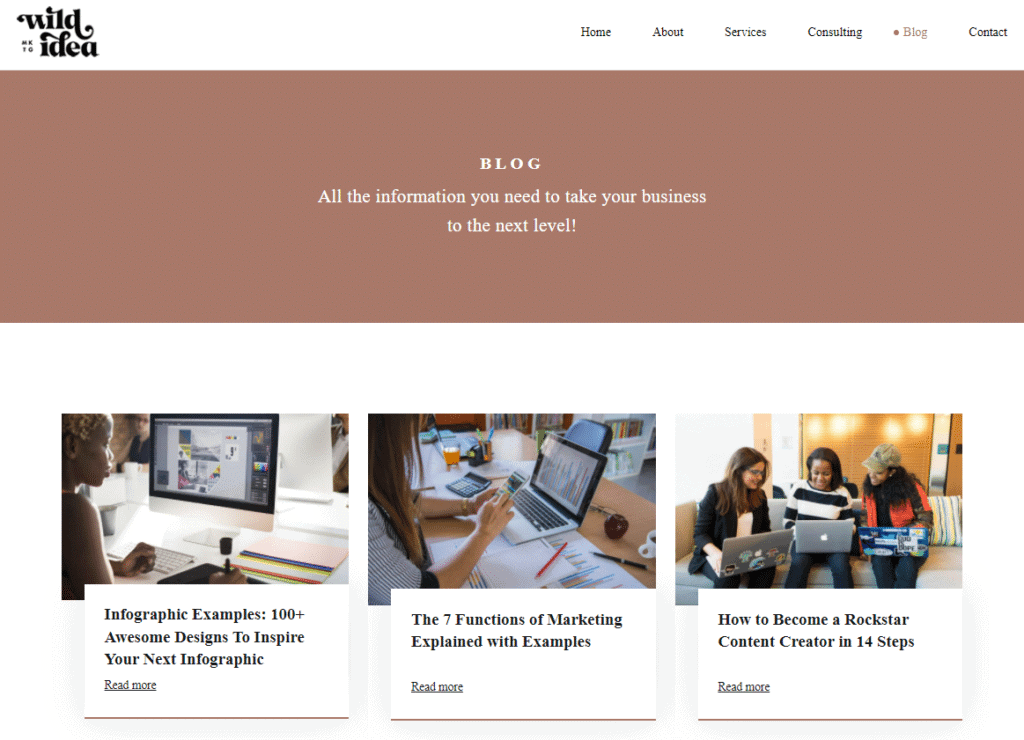 Step 6: Promote Your Blogs
There are many ways‒organic and paid‒to promote your blog. Even if you've written the best content possible, if no one's able to find it, it won't do any good. That's why sharing every blog post with your audience is vital. Social media is free publicity, so share your heart out on Whatsapp, Facebook, Twitter, Instagram, or wherever your audience hangs out.
If you have an email list, it's another free (or almost free) way to share your blog with people who may already know you and likely be interested to know what you have to say. If you don't have an email list, your blog is the best tool for collecting emails.
Another way to get more eyes on your blogs is to contact and possibly collaborate with the experts in your space. You can also share your blog with relevant blogging communities.
Don't feel hesitant; promote your blog relentlessly. The initial traffic will help get some eyes on your content before it starts ranking.

Step 7. Build Links to Rank
Backlinks are a decisive factor in Google's ranking algorithm, as proven by studies by Moz, SEMrush, and Backlinko. As links back to your website increase, your domain authority ramps up, and more and more of your blogs and webpages begin to rank higher in the SERPS.
That's because backlinks are sort of a vote of confidence. They tell the search engine that your website is legitimate and your content is so useful that others are linking to it.
Blogs are an extremely effective way to increase backlinks to your website. Long-form blogs such as comprehensive guides, trend posts, how-to posts, and statistics posts get an average of 77.2% more backlinks. Others will likely require manual outreach to get attention like infographics, studies, and surveys.
Similarly, outbound links to authority sites are also essential and hint at Google bots about the relevancy of your website. Along with inbound and outbound links, you should also strategically link the internal pages and blogs using topic clusters. These internal links not only keep your audience engaged but also direct search engines to the relevant pages on your website.
Blogging has multiple perks that make it worth all the effort and resources it takes to create a winning blog. It's fun and can really help you rank your website, drive more traffic, make new connections and sell your products and services. Make sure you have a solid content strategy from the start. If you'd like our help, feel free to reach out and learn how we can help kickstart your blog and increase its ranking!
Author
Owner + Content Marketing Consultant
Wild Idea
Karli is content marketing consultant behind Wild Idea, a content marketing and SEO collective focused on driving big results. With over 12 years in the marketing industry, she's worked with brands large and small across many industries to grow organic traffic and reach new audiences. She writes on everything from marketing, social, and SEO to travel and real estate. On the weekends, she loves to explore new places, enjoy the outdoors and have a glass or two of vino!
Is Blogging Worth It? (10 Reasons You Should Maintain a Blog in 2023)